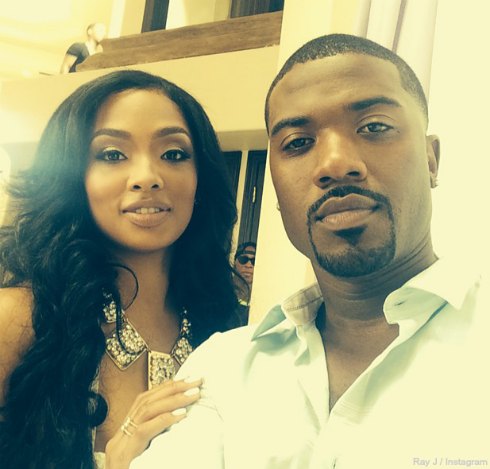 Not long after professing his undying love and admiration for Princess, Ray J and his girlfriend have broken up according to TMZ. The couple, who started dating while still involved with other people, have been unapologetic when it comes to their two-year-long relationship.
According to a source, Ray J decided to give Princess some time to pack her things and leave the home they shared together. Instead of packing her things, Princess began packing up the items belonging to their dog, Boogotti.
Apparently, you don't get between a man and his dog, even if it is a three-pound Maltese. Ray J went off on Princess for trying to take his dog away, and the fight escalated to the point his security had to get involved. No word on what caused their falling out.
After the break up, things got nasty when Princess flaunted a picture of her with ex Floyd Mayweather Jr.
The pic has since been removed and it looks like Princess and Ray are, once again, messing around.
After a week and a half after the blowout, TMZ interviewed Princess over Skype when Ray J suddenly appeared. The two looked happy and light-hearted while hanging out with their dogs. Interestingly enough, it was 11 am and both Princess and Ray were wearing robes indicating they were fresh off a sleepover.
Ray J quickly stole the spot light and was questioned if him and Princess are back together, "What can I say? It's crazy right now. All I'm trying to do is make sure that everything is at peace you know what I'm saying?" Ray confessed.
Then, the questioning turned back to Princess, "We're working on our friendship." She went on to say, "Right now, it's about the dogs, you know? We're okay."
Check out the clip:
Are you as confused as I am?
Ray J and Princess broke up for reasons unknown and are now, less than two weeks later, appearing to make peace for the sake of their dogs…
Do you think this is a sticky situation between two people who love each other or a simple PR stunt?
Catch Love and Hip Hop Hollywood on Mondays at 8/7c on VH1.