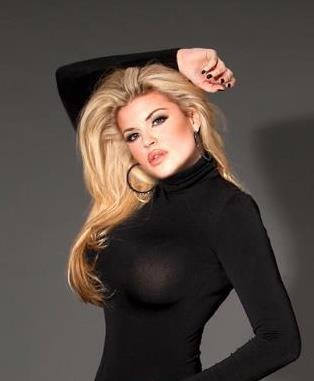 Big Rich Atlanta (formerly Big Rich Georgia) isn't scheduled to premiere until January, 2013 but the cast is already making headlines for an assault that occurred earlier this month! Ashlee Wilson Hawn (above left) claims to have been attacked by her co-star Kahdijiha Rowe (above right) while celebrating her birthday earlier this month, and now she is reportedly afraid for her safety and refusing to return to the show!
The alleged incident occurred on October 2 at the Havana Club in Atlanta where Ashlee was celebrating her 28th birthday. A source tells Radar Online that after Kahdijiha (Radar incorrectly lists her name as Khadijah) stuck her fingers in Ashlee's cake, Ashlee went up to her and said, "Why would you do that?" Kahdijiha then began screaming at her and said, "I'm gonna kick your ass."
"Ashlee was 2 feet from her and that's when Kahdijiha lunged, grabbed her ponytail, and pulled it all the way down," a source says. "She ripped off the left side of Ashlee's dress, pulled her hair out, and dragged her along the ground. One of Ashlee's friends had to pry Kahdijiha's fingers from her head one by one because she just wouldn't let go. That's when she fled the scene. The cameras didn't stop filming the entire time." (Are we sure this is Kahdijiha Rowe and not Sheree Whitfield?!?)
According to the source, Ashlee was taken from the scene by paramedics and a police report was filed against Kahdijiha Rowe. However, three weeks have passed and no arrest has been made. Kahdijiha, who is the step-daughter of 112 singer Quinnes "Q" Parker, has been seen continuing to film scenes around town, but poor Ashlee does not want to come out of hiding and has refused to film any more scenes for the show.
Prior to the party, Ashlee feared that Kahdijiha might harm her, and even told the producers that she didn't want her at her party, but (surprise surprise) they allowed it anyway. "They promised her Kahdijiha wouldn't lay a single finger on her but 15 minutes into her birthday party Ashlee was brutally attacked."
"Ashlee's quit the show and she's never going back," the source adds. "She nearly did return. Then the show's producers asked her to sign paperwork waiving her right to sue Kahdijiha. "But Ashlee refuses to waive her rights to sue someone that assaulted her."
Ashlee seemed to address the incident after ahring a link to the Radar Online article and then tweeting, "Bullying is not ok and promoting a bully is worst! Stand up for what is right NOW! #bully #hate #love #antihate"
Big Rich Atlanta is scheduled to premiere in January on the Style Network. (You can find out more about Big Rich Atlanta and the country club where it is based — which isn't actually Atlanta — HERE!)
For more photos of Ashlee's injuries, click here.