The Style Network has just announced the cast of the brand new series Big Rich Atlanta — and there is a lot of them! Thirteen ladies make up the cast of the new show, which will be coming your way early next year. With all that estrogen in one place, there's sure to be all sorts of drama!
Big Rich Atlanta, which was first named Big Rich Georgia, will premiere on January 20 and follow in the footsteps of it's predecessor Big Rich Texas, which is currently in it's third season. According to Wikipedia, Big Rich Atlanta follows the mothers and their daughters of the Buckhead Country Club in Atlanta (more on that later).
Now, let us introduce you to the cast:
Sabrina McKenzie (above)
Pastor Sabrina is rich, religious and single. A successful dancer who toured with such singers as Bobby Brown and TLC, Sabrina merged her passions for dance and spirituality to become the Dancing Preacher. Today, she's a self-made woman juggling an international dance ministry while raising her college-aged daughter, Anandi.
Anandi McKenzie (above)
Sabrina's daughter Anandi is a college sophomore balancing books, boys and her latest passion, pageants. She's a self-professed nerd who happens to treat every day like a red carpet appearance, and she isn't afraid to rely on her mother's omnipresent Glam Squad to make sure she always looks her best.
Marcia Marchman
Marcia is a well-known interior designer in Atlanta with a reputation for lush design with a traditional Southern feel. Always a trendsetter, Marcia is now working with her daughter, Meagan, to launch Buckhead's first mobile fashion truck business.
Meagan McBryer (above)
Marcia's daughter Meagan is a licensed real estate agent whose true passion lies with fashion. Inspired by the success of pop-up boutiques in New York and Paris, Meagan is determined to open Atlanta's first mobile boutique. She runs in a high-powered, high-glamour social circle and will have no shortage of customers if she and her business partner/mother succeed in launching their joint venture.
Katie Davidson
Katie is a fourth generation Atlantan and proud of it! She is a stay-at-home mom who loves luxury, football and southern traditions. Conservative by nature, Katie may be pushed to venture outside of her comfort zone and beyond the tranquility of the riverfront estate she shares with her husband and two children.
Diana Davidson (above)
Katie's 17 year-old daughter Diana is a competitive high school cheerleader. She's athletic and outgoing, and definitely inherited her mother's taste for the finest things in life. She cruises the Buckhead suburbs in a brand new luxury SUV and is excited about entering her first pageant.
Sharlinda Rowe-Parker (above)
Sharlinda is a self-made woman and co-owner of Tu La 2 Nail salon, which she runs with her twin sister, Brie. Sharlinda is a take-charge woman who likes to show people who's boss. Outspoken and occasionally over-the-top, she prides herself on being an astute business woman, a supportive sister, a fabulous mother and a glamorous wife. Sharlinda is married to recording artist Q. Parker of the R&B quartet 112.
Brie Rowe (above)
Brie is Sharlinda's twin sister and co-owner of Tu La 2 Nail salon. She often serves as a close confidant and "second mom" to Sharlinda's daughter Kahdijiha.
Kahdijiha Rowe (above)
Sharlinda's daughter, Kahdijiha, is a no-nonsense go-getter and marketing executive. With her glamorous mother and celebrity father, Kahdijiha is a jet-setter in Atlanta's social scene and ready to take on the world.
Harvin and Meyer Eadon with their mother Virginia
Virginia Eadon
Virginia is starting a new life in Atlanta by moving in with her gorgeous daughters, Harvin and Meyer. Independently wealthy and armed with an MBA, Virginia wants to keep an eye on her investment in her daughters' nascent fashion and jewelry business. Recently single, Virginia is ready to meet someone new.

Harvin Eadon (above)
Harvin, Virginia's eldest daughter, may look like a blonde princess, but dark secrets of her past give her a surprising emotional depth. She's channeled her emotions into a clothing and jewelry line called She Blames Me, creating fashion and accessories inspired by women the sisters hate.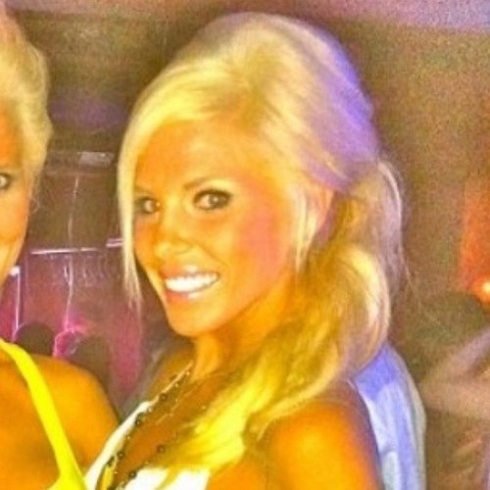 Meyer Eadon (above)
Virginia's youngest daughter, Meyer, is in a world all her own and it's usually a party. She does as she pleases and never holds her tongue, a trait that has created plenty of frenemies and enemies over the years who can now be sources of inspiration for the clothing and jewelry line she is launching with her sister.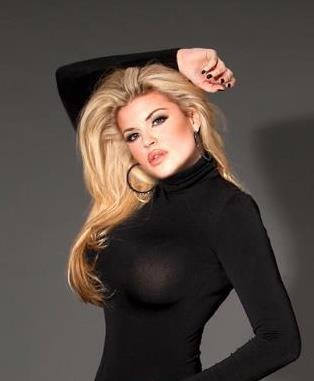 Ashlee Wilson-Hawn (above)
A former Miss Georgia Teen, Ashlee is one of Atlanta's most sought-after pageant coaches. A fixture on the Atlanta social scene, Ashlee is a highly-opinionated, old-money heiress who fancies herself a Boss Bitch.
In addition to those cast members listed, Rodney Ho also reports that Cori Davenport (a friend of Kim Zolciak's who has been seen on Real Housewives of Atlanta) will also be appearing on the show as a guest star.
There has already been some drama on the show, and it starts with Kahdijha and Ashlee. The two reportedly got into a fight at Ashlee's birthday party resulting in Ashlee getting her hair pulled out and being pretty badly beaten. There have also been some odd filming locations — and by odd, we mean completely made up. The Buckhead Country Club where the show is said to be based is actually Brookfield Country Club, located in Roswell, Georgia.