After rumors swirled for a couple of weeks, it's all but confirmed that MTV will be airing a Teen Mom 2 "Being Vee" special featuring Jo Rivera's fiancée Vetzabe "Vee" Torres!
Oddly, the "confirmation" comes from MTV UK, which lists the "Being Vee" special on this week's listings with an air date of August 9: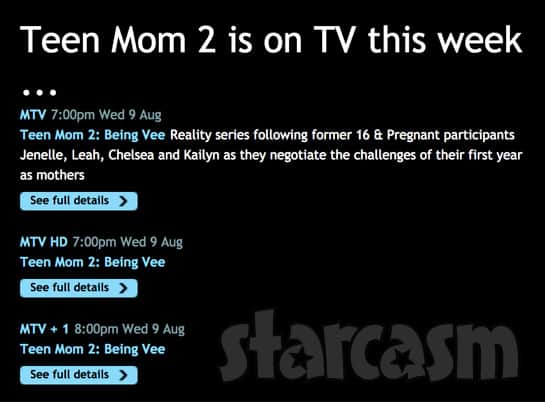 There is still nothing showing up in listings in the United States, but it seems like too much of a coincidence to be some sort of random error. Many fans speculated that Vee would be joining other Teen Mom OG and Teen Mom 2 stars such as Barbara Evans, Butch Baltierra, Debra Danielsen, and (erf) Matt Baier with her own special after a series of teasing tweets last month.
"Why don't we see you on Teen Mom anymore?" a follower asked. "We miss you."
"I didn't really film this season," Vee explained. "Probably won't be next either! Have sooo much going on! Sorry ?"
That tweet got this response from another fan: "We miss you!!!! ???" And Vee responded by teasing: "You'll be seeing me real soon ??"
A "Being Vee" special is especially enticing to Teen Mom 2 viewers because she hasn't really revealed much about her life on the show, despite being with her baby daddy–Isaac's father Jo Rivera–longer than any other couple on the series. And, in addition to getting to see more of Vee, fans will also get to see more of her and Jo's daughter Velisse (aka Vivi)! Actually, Vivi may end up stealing the show and the title:
I'm super excited about a "Being Vee" special! We've been big fans of Vee for some time, and have been keeping up with her as much as possible via social media — which includes her Veeautify Me makeup tutorials on Youtube, as well as the brand's Instagram feed and blog.
We will keep an eye out and try to update as soon as we've 100% confirmed there will be a "Being Vee" special and when it will air.
UPDATE – We still don't have an air date, but Vee has responded to stories about the "Being Vee" special after we broke the news. I will start with my favorite, which looks to be a nod to our proposed "Being Vivi" title:
Being Vivs ?? pic.twitter.com/Kxj1kXDYXL

— Vee (@vjtx0) August 6, 2017
Yes! She asks me to paint her toes then she goes "mommy I try, I try" ? so I let her try too.

— Vee (@vjtx0) August 6, 2017
The Grace Report did a video about "Being Vee" showing up on the UK TV schedule a couple days after our post and tagged Vee when she tweeted about it. "You're awesome thank you!" Vee responded. "But, unfortunately I spoke to MTV there is no air date yet so I think that was a mistake ☹️ I'm not sure whats even going on lol & I actually didn't film anything in regards to the show either, but hopefully it's interesting enough. ?"
"They're just using outtakes of things they've shot of you for TM2?" Grace asked. "No I filmed for 5 straight days of things I wanted to/important things going on in my life. Nothing pertaining to anyone else or anything."
"Sounds like a special to me!" Grace responded. "Either way, looking forward to whatever y'all have up your sleeve."
Vee then shared what seem like conflicting tweets. "When I say the show I mean TM2 lol! Sorry! That was confusing ? I didn't film anything about that." she wrote first. She followed that up with: "Yea it is a special! They just haven't set an air date yet so that's why I don't know why it's on the TV guide lol."
Well there you go!