It has been quite a crazy season for WE tv's reality series Braxton Family Values! Midway through the current season, four of the five Braxton sister revealed to producers that they were going on strike, leaving Traci Braxton as the lone star remaining. Normally, losing 80% of your cast would be a death sentence for a reality series, but Braxton Family Values producers decided that their glass was 1/5 full as they shifted the focus of the show to just Traci while recruiting some additional support from former Real Housewives of Atlanta star Phaedra Parks.
"We've always loved each other from afar, and now we're up close and personal," Phaedra tells Entertainment Tonight of her relationship with Traci before and after joining the show. [Video below] "I obviously know Traci, know her sisters, and have a lot of respect for them. So, when I received the call, I said, 'Well, I have to know what I'm really getting myself into,' because, of course, I'm not new to it, honey. I'm an old vet."
Phaedra says that she has since grown a lot closer to her new co-star. "I love being around Traci. We have a ball when we're together, and I think we bring out the best in each other. So, I think it's a match made in heaven."
Is Phaedra willing to commit to Braxton Family Values full time if the opportunity arises? "My first priority is being a mom," she says. "I want my boys to be able to watch me and be proud of me. I want to do television that edifies women and empowers women, and if I do reality, I want it to be real. So, what I was doing with [Braxton Family Values] was really real. So, you know every moment you will see, it's real and very organic. I can feel good about it at the end of the day, there's no stress associated with it."
Phaedra is asked whether or not she thought The Real Housewives of Atlanta met the criteria she listed. "I was with Housewives for eight years. No regrets, but this is very different." She adds: "I have seen the dark side of reality TV. I've been in the dark side of reality TV."
At this point in the interview, ET cuts to a clip from the RHOA Reunion in which a very emotional Kandi Burruss lashes out at Phaedra and Porsha Williams for allegedly accusing her of rape — an accusation that reportedly led to Phaedra's abrupt departure from the show.
Phaedra states that she has "no regrets" about her time on the show before being asked if she had anything she still wanted to say to Kandi. "Whatever I've said, I've already said it," Phaedra replies. "That was now, two years ago? So, yes, I'm living in 2018."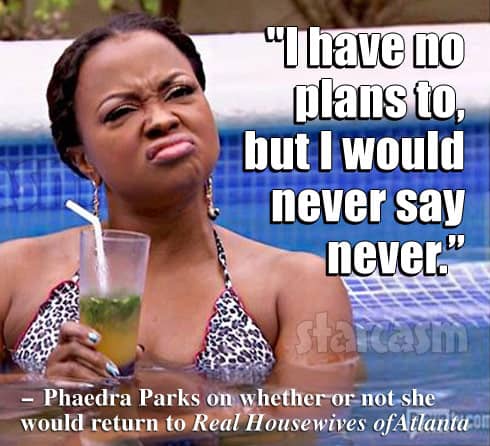 Phaedra stops short of ruling out a return to Real Housewives however. "I have no plans to, but I would never say never," she says coyly. "But I'm very happy with what I'm doing now."
Phaedra then laughs off rumors that she has recently been seen filming with Kandi Burruss before confirming that she has kept in touch with NeNe, Sheree and Porsha.
Here is the interview clip with both Phaedra and her new reality show bestie Traci Braxton:
In addition to Phaedra, Traci has been filming with a supporting cast that includes FlavaFlav, Tiffany "New York" Pollard, Kym Whitley, Natalie Nunn, and Luenell — including a cattle ranch experience to tie in with Traci's sponsorship of Black Cowboy Whiskey.
New episodes of Braxton Family Values with special guest Phaedra Parks can be seen Thursday nights at 9/8c on WE tv.
Asa Hawks is a writer and editor for Starcasm. You can contact Asa via Twitter, Facebook, or email at starcasmtips(at)yahoo.com