TLC is set to unleash another show featuring a slice-of-southern-life and this time around the focus is a trailer park in Myrtle Beach, South Carolina, Welcome to Myrtle Manor.
Here's the brief press release about the show via the network:
TLC announced today that it recently completed production on Welcome to Myrtle Manor, a new ten part series that provides viewers a window into a trailer park in Myrtle Beach. Each sixty-minute episode follows the daily drama of these quirky Southern residents with wildly different personalities as their lives collide in this proud, tight knit community.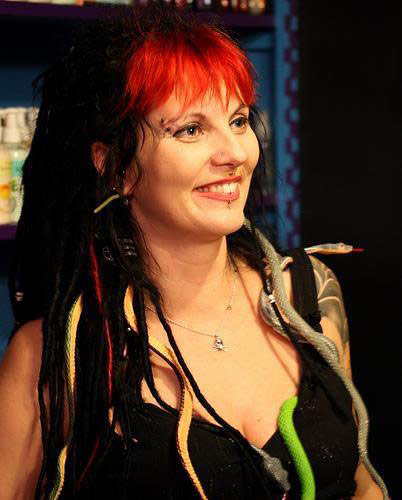 Shellie Rowell of Welcome to Myrtle Manor
A fanpage set up for Shellie via Facebook describes the show like this:
It's a docu-soap following a cast based in Myrtle Beach as they have adventures and misadventures. We here at Team Shellie are all about "The Truest B!tch"!
That term "docu-soap" keys us in to the probability that we already have the makings of a show that might not be all reality. Here's an acceptable definition of a docu-soap:
A genre of reality television in the style of a documentary in which an apparent plot is constructed by intention or editing in order to make programs in this genre resemble soap operas.
Here is another clue posted by Shellie's fanpage when asked why she had a fanpage in the first place:
"This is the fanpage for Shellie Rowell, specifically her persona on the upcoming TLC reality show based in Myrtle Beach. Someone was going to make one it might as well been me."
Myrtle Beach Online via The Sun News has a report about the commotion being stirred up locally by the filming of the show.
Reporter Dawn Bryant comments on how the growing chatter was, "much to the frustration of the crews, who wanted to keep the project under wraps until its broadcast debut." More telling is the fact that the trailer park in question isn't even called Myrtle Manor and the sign posted above, via a Facebook page for the show, was created by the production crew to have an authentic 50's looking flair.
The real name of the trailer park is Patrick's Mobile Home Park, which is located off of HWY 15 in Myrtle Beach.

Street view of Patrick's Mobile Home Park, the real location of Myrtle Manor.
In addition, it's reported that crews were set up in the rear of the community with, "several decorated trailers" and a plastic pool, indicating that some things were set up at the trailer park specifically for the show.
Most fans of reality TV understand that you're never fully seeing the realness of the subjects being covered. Thom Beers admitted to as much while discussing the popular show Storage Wars. What does matter for most viewers is the level of manipulation.
In an ad placed in "O" magazine they have the cast shown as part of a 2-page spread. A local promoter with over 1,300 Twitter followers by the name of Taylor J. Burt appears in this. He tweeted the image with the following tag, "Check out the January issue of opera's [Oprah's] O magazine. Welcome to myrtle manor TLC double page spread! There I am!"
Here's a pic of Taylor with another reality star most of our readers will recognize.

Taylor J. Burt of Welcome to Myrtle Manor with Jenelle Evans of Teen Mom 2
A short time ago Burt was asking friends via Twitter if they knew anyone who could come and clean up his condo (which I'm guessing isn't located in Myrtle Manor – I mean Patrick's Mobile Home Park) :
UPDATE: Even though he wasn't living in "Myrtle Manor" when the show began, Shellie's Facebook fanpage operator Soup told us in a comment that all the cast member did move in to the trailer park "between years and days as stated in the press release," and still live there now. So it looks like they are genuinely living there!
I'm not sure how Taylor will be portrayed on the show but it looks like his dog Gus and his mom Anne Johnson will also be featured. Anne has set up a Twitter account labeled MyrtleManorAnn. She tweeted the following pic and tagged it #sons and #mommas.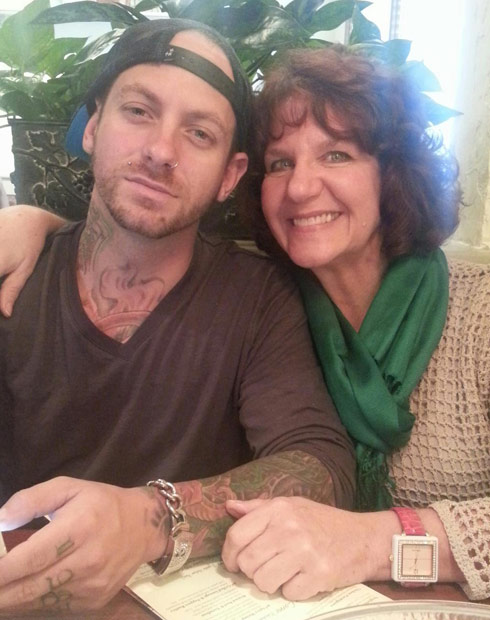 Taylor and Anne of Welcome to Myrtle Manor
And then we have Gus the Bulldog. Yes, Gus has his own Twitter account and appears to have the makings of being the star of the show. Since Gus brings it, here's a photo of the HDIC doing the ocean justice.

Gus the Bulldog from Welcome to Myrtle Manor
I love the concept of an authentic look into the lives of the residents of a southern trailer park. I hope Welcome to Myrtle Manor comes close and isn't over-cooked.
Editor's Note, February, 2013: This story was first posted before very much was known about the show, click here to find out more. Almost all reality shows have some degree of "production" going on because it's an impossible task to to fix a camera on someone, and expect to have an entertaining half-hour, or hour-long television show. Even the most critically acclaimed documentary films require sit-down interviews that "steer" the direction of the story, tons of editing, and even arranged situations. It looks like there is a degree of production and direction going on with Myrtle Manor, but if that part is done right, it can actually make the end product more "real," because they are better able to capture the genuine and authentic nature of the people involved.
Shellie's Facebook Fanpage (yes, the same page referenced above) owner Soup puts it best:
It's entertainment. Being entertained is subjective. It also takes a willingness to allow yourself to be entertained. If you can't handle the fact that real people with real personalities are being put into situations they wouldn't have beenin if not on TV, then it's time to throw the thing out the window and take up bird watching. That's a hobby that is in real time with no editing, a total immersion in reality.