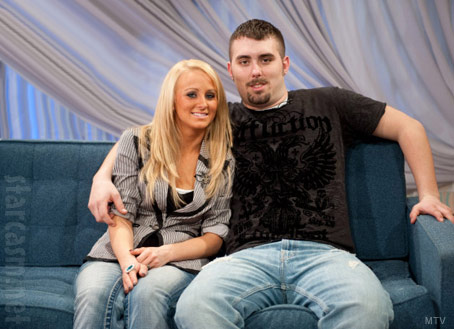 It was shocking when Leah Messer and Corey Simms called it quits in April 2011, because they seemed to working out. Now Leah's married to Jeremy Calvert, and has reportedly given birth to her third child. At the end of Teen Mom 2 Season 3, it's become apparent that Leah still wasn't over Corey, even when she moved on with Jeremy.
Last Season it looked like they split up after Corey found out that Leah cheated on him with her ex-boyfriend Robbie Kidd.
While that probably had some impact on the relationship, on tonight's Checkup with Dr. Drew, Corey says the six-month marriage "Blew up over a stupid truck and trailer."
He said that he decided to stop chasing after Leah after she told him she wanted to move, and basically gave him an ultimatum. A story floating around the tabloids at the time was that Leah wanted a new house, and Corey bought a new truck instead.
OK Magazine had a source who said they witnessed an outside fight between the couple where Leah pointed at Corey's truck and screamed "That's why we got divorced!" He reportedly answered back "That's not why we got divorced."
We have sources close to Leah and Corey that confirm the argument over the trailer and the truck was what caused the divorce to actually move forward. In fact, the sources claim that it wasn't caused by Robbie at all.
Last November, Leah said as much in an interview with Wetpaint: He can say it was the cheating, he can say whatever he wants. But that was not even an issue at the time. For us. That was not an issue at all. We equally forgave each other, and then the house and truck situation came up during marriage, and everything went to that."
The reunion was hard to watch as Leah sat between Corey and her now-husband Jeremy and discussed her inability to get over her feelings for Corey. Corey felt frustrated, and wondered if maybe he and Leah shouldn't talk so much because it turned up too much emotion. It must be extremely uncomfortable for Jeremy, but at least Leah is being honest about her feelings, and not hiding that from Corey.
It's been a while since this was taped. Leah posted on her Facebook wall tonight: "Wow, So much has changed! I love where we all stand! I love my husband #Strong"