Mark Balelo, an auction house owner and occasional bidder on the A&E reality series Storage Wars, was found dead at his business in Simi Valley, California Monday morning. Balelo was in his car, which was running and parked in a garage at his auction house.
According to sources for TMZ, Balelo, 54, was having a difficult time after being arrested on Saturday for a drug-related offense. "We're told when Balelo got out of jail he was distraught, and asked his fiancée to come over because he was afraid he might hurt himself," the site reports. "We're told they met at his office on Sunday, they talked for a few hours, he took a 4 hour nap — and when he woke up seemed better."
Balelo's fiancée then left him at the office Sunday evening. TMZ says one of his employees found him this morning.
Law enforcement officials tell the site there will be an autopsy conducted Tuesday.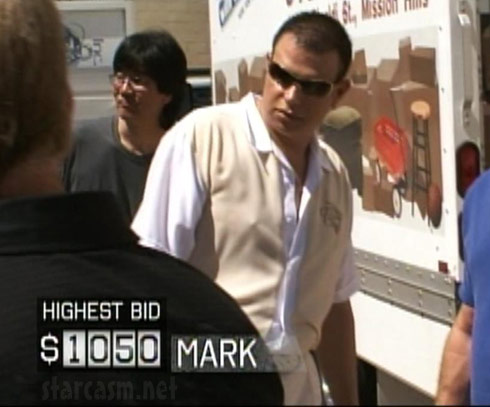 UPDATE – After doing some more research it appears that Balelo had a lot more on his mind than a drug arrest. He also faced deportation!
The handsome Latino liquidator, who was born in Portugal and raised in Brazil, has a history of convictions for weapons and drug offenses.
"Mark's legal right to remain in the United States is on the line," his girlfriend Elizabeth Metzidis told The Enquirer [in early January].
"The thought that he could be taken at any moment and thrown on a plane and deported is very upsetting to him."
A message for fans was posted on his Facebook page by someone with the initial EM, which I is his girlfriend/fiancée Elisabeth Metzidis:
Thank you to everyone for all your thoughts and kind words. Mark lived for his friends and family and would so appreciate everyone here for their love. We are truly and completely devastated by this. Mark was everything. EM
Some of Mark Balelo's Storage Wars cast mates offered up their condolences on Twitter, including Darrell Sheets and fellow auctioneers Don and Laura Dotson:
Mark was quite the eccentric character, as his Facebook "About Me" attests:
I fly private planes, race cars and love going to Las Vegas and put on a show. I own several businesses and participate in many TV shows including Storage Wars. I am currently working on a new reality show of my own.
I'm a huge Storage Wars fan and I always enjoyed it whenever the over-the-top Mark Balelo made an appearance. My favorite would have to be the now famous discovery of the $13,000 Nintendo NES: