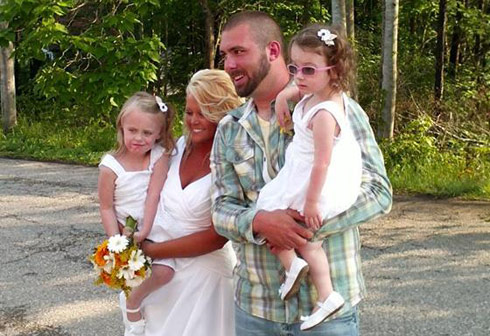 According to a shocking new report, Teen Mom 2 dad Corey Simms is quitting the show after six seasons!
The report comes via a source for Life & Style, who says Corey has "told MTV he will not return for another season. He doesn't think the money is worth the aggravation anymore."
And it could be that Corey's #LifeAfterLeah buddy Jeremy Calvert may not be far behind! "Jeremy also wants out of Teen Mom," the source says, "but he hasn't made any formal moves yet."
Could it be that Corey was giving us all a hint that he planned to say farewell to the show with this tweet last week?
See y'all later on. Keep on keepin' on!!

— Corey Simms (@CoreySimms2) July 19, 2015
Fans of Teen Mom 2 know the turmoil Corey has had to go through on screen, from pre-wedding adultery by bride-to-be Leah Messer, to their divorce, to a contentious custody battle over twin daughters Ali and Aleeah, to Leah's alleged drug problems. And I think it's important to note that Corey and current wife Miranda Simms are expecting their first child together, and that must have weighed very heavily in the decision-making process.
From a fan's perspective, I want to say that despite all of the drama surrounding Leah, Corey (and his entire family) always seem to be shown in a very positive light. His issues consistently stem from being a father who loves his daughters, and he rarely, if ever, seems irrational or petty when expressing his concerns.
That being said, I can't imagine what it would be like having your entire life broadcast not only on national television once a week, four months a year, but EVERY SINGLE HOUR of EVERY SINGLE DAY online. And with 90% of the online chatter being negative and/or spiteful.
And let's not forget that if this is Corey Simms' last season on Teen Mom2, it means we must also say farewell forever to one of the show's greatest characters, Corey's camo West Virginia hat:
Now we just need someone to record a song about Corey and his dad Jeff Simms' amazing father/son heart-to-hearts. Those are always some of my favorite moments. 🙁 Don't leave Corey!