To say things have gotten ugly after the second season of Married at First Sight would be an understatement. Not only did all three couples get a divorce, one cast member recently filled a restraining order against the man she was matched to marry.
Earlier this week, rumors began swirling regarding the validity of the vetting process for the cast. Many theorized that after the success of season one, A&E rushed production, and, thus, casting on season two.
But executive producer Chris Coelen is standing up for the validity of the match making effort that goes into producing the show.
"We go to bars, mixers, singles events and church groups," Chris explains. "We also go on every dating site you could possibly think of – OkCupid, Match.com, Tinder, Hinge. We also go on Facebook, talk to family and friends and try to make the pool as big as possible." Who knew?
To put the success of the show in perspective, the first season received less than 1,000 applicants while season two received more than 7,000, and season three brought in more than 20,000 applicants!
Once the long list of candidates is narrowed down, potential cast members are invited back to attend "workshops." Chris explains that during workshops, the production staff explain–thoroughly–how the show works: "We're extremely transparent with them, and we do that with the people who are in-the-know that it's Married at First Sight and who aren't familiar with it."
So, where do the show's four experts come in to play? They are in attendance at the workshops.
After the workshops are completed, candidates are contacted and background checks begin on those who are interested in continuing further. Chris explains they "immediately start very significant background checks and psychological evaluations by highly accredited third parties." From there, they "get their recommendations and they rule out a lot of people."
Chris describes the time spent with the candidates as "very, very intense," filled with psychological evaluations and questionnaires–which is the part we hear about time after time on the show.
Overall, the initial casting process takes about six months, while final casting is often shorter, taking about four to six weeks.
Despite the attempt at positive PR, some still aren't buying it.
After the story was released, Dr. Logan Levkoff tweeted the link and said, "Time to put to rest the casting rumors of #MarriedAtFirstSight," to which Davina Kullar responded with a GIF of laughter.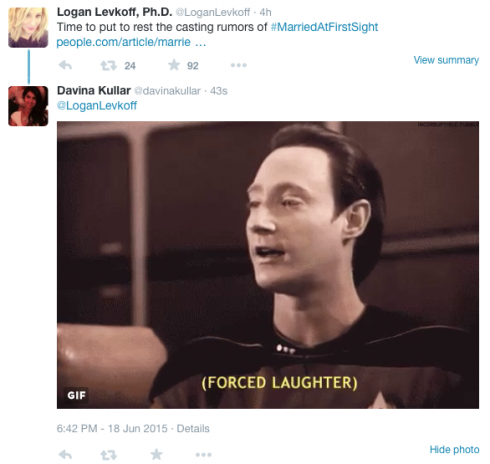 This isn't the first time the experts have defended their process. During the reunion special, Dr. Logan confronted Sean and Davina when the couple admitted they only spent ten to twelve nights together during the course of their six-week marriage.
It's also getting nasty between the cast members from seasons one and two. Jamie Otis posted a candid tweet blaming the drama of season two not on the producers but on the cast:
Jamie offered a more lengthy explanation of her feelings regarding season two:
#marriedatfirstsight was INTENSE. I've got to be honest, I'm really disappointed in the lack of effort given by some this season. Marriage isn't a joke. It's not to be taken lightly. Before season one of #MAFS people were quick to assume the participants didn't value marriage. At the end of our season they realized that couldn't be further from the truth, from all participants involved. I sure hope season 3 couples go into their marriage valuing it, nurturing it, & respecting it. Let's keep Married At First Sight classy. (PS I am still just SO thankful for my hubs – how did I get so so so lucky to have the best guy?!?!)
Despite the way it ended for Jessica Castro, she must be happy about the attention she's received. Last year, she gave an interview in which she said, "In five years you will see (me) on your television screen as a full time successful actress, playing a lead role on a television series."
Season three of Married at First Sight is said to have begun filming this month in Atlanta. Look for a premier date in late 2015 or early 2016.