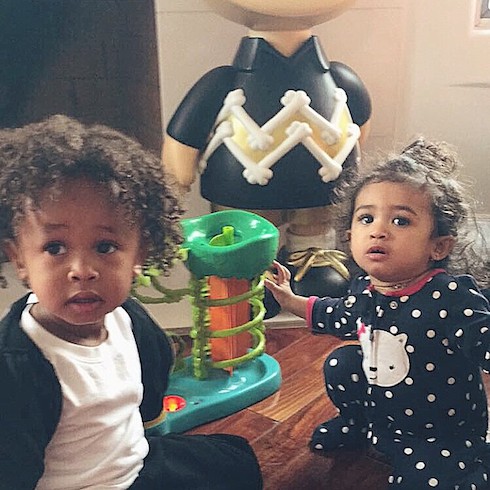 Recently, Chris Brown and Tyga have both seen their names in headlines for some unpleasant reasons. Brown got into a fight during a pickup basketball game and found himself wanted for assault (though the charges were later dropped). Tyga's relationship with 17-year-old Kylie Jenner continues to get him criticized, and his ongoing fight with baby mama Blac Chyna has the Jenner parents wanting Kylie to break things off with the 25-year-old.
So it was actually a bit refreshing to see the two dads bring their kids together for a bit of quality playtime. Brown's 11-month-old daughter Royalty hit it off famously with Tyga's two-year-old son King Cairo. Though there was a bit of drama when the two had a hard time figuring out who would play with which toys. The dads had things under control:
By most accounts, Brown has actually been a consistent and loving father figure since finding out that Royalty is his daughter. If his Instagram feed is any indication, Brown is quite content to hang out with the little girl all day and teach her how to talk.
As for Tyga? He's apparently getting ready to "put a baby" in Kylie–so these playdates might be getting a bit more crowded in the future.
(Photo credits: Tyga, CB via Instagram)