Teen Mom 2 dad Jeremy Calvert is learning the hard way what can happen when your ex-wife posts photos with you at the club — especially when your ex-wife is Leah Messer! Leah posted the photos on Instagram this weekend, and hours later Jeremy's ex-fiancee Brooke Wehr blew up the Teen Mom 2niverse by accusing Jeremy of cheating on her with her best friend, complete with a screen capped text message confession of course.
When asked why she thought it necessary to air their dirty laundry in public, Brooke explained that "the only reason I posted bc the world needs to know he's actually a sneaky dirty pos instead of this calm dude he appears to be for the cameras."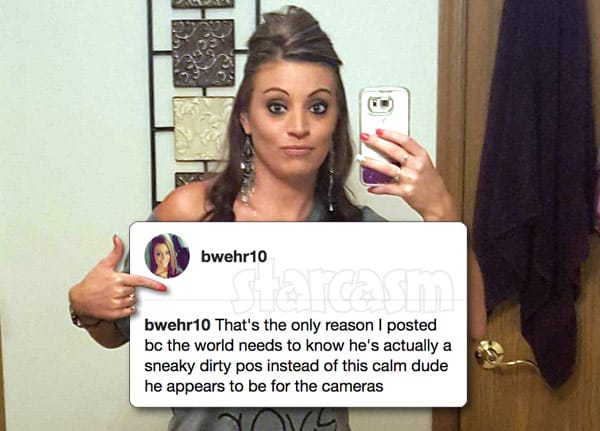 Jeremy later admitted that he did, in fact, sleep with Brooke's best friend, but it was while he and Brooke were on a break. "We did it one time and it was over," Jeremy confessed to The Ashley's Reality Roundup. "Afterward, Brooke and I got back together and it was kind of awkward, so [Leeann] and I kept our mouths shut." He adds that he and Brooke broke up for good in February, and that things were great between them until Leah posted the photos.
Brooke shared a screen cap of Jeremy's admission on Instagram in response to numerous commenters claiming that the text message conversation she previously posted wasn't real. "Everybody still think the screenshot is fake and that I made it up?" Brooke asked in the caption. "There ya go. Came straight out of his mouth publically [sic]."
The new post sparked a conversation in the comments section in which Brooke seems to back down from her previous claim that her "best f**king friend leeann and jeremy…had been hooking up behind my back the whole f**king time we were together," and shifts her anger from Jeremy to her BFF. She does call out Jeremy's timeline, though, and claims that "HE WAS STILL AT MY HOUSE LIKE 2 weeks ago not February."
Here are Brooke's interactions with commenters about Jeremy admitting to hooking up with Brooke's BFF while he and Brooke were "on a break." [Cue: Friends theme song.]
COMMENTER: Doesn't seem like he's admitting to cheating on you … just that they hooked up … when you weren't together …..
BROOKE: that's his story but admits the screenshot is real. I don't care f**king ur finances best friend together or not is pathetic
B: FYI HE WAS STILL AT MY HOUSE LIKE 2 weeks ago not February lol. February was the last time we were public about it lol
C: I'd be way more angry at my best friend if we weren't together at the time.
B: I am??
C: Wether they were together or not it was super shady of him to sleep with her best friend, and even more shady of her BEST friend to sleep with him.. in the end @bwehr10 has all the reasons in the world to be p!ssed off.. brooke your much better off without BOTH those people in your life!
B: EXACTLY!!!!!!!????
C: Forth, he's not admitting to cheating on you. He's admitting he hooked up with your friend while y'all were split up.
B: I know that's exactly what I'm proving
C: Hold up. I'm confused, wasn't your screen shots about him cheating with your producer? This was about a "friend" of yours. Which is it?
B: my best friend
C: Why you so obsessed with him and who he sleeps with? Who gives a f**k? Move on!
B: I care about HER doing it to me
C: I'd put money on it he was still sleeping with Leah your whole relationship. Looks like they are now for sure. You're better off without that boy pretending to be a man.
B: good maybe she will keep him in WV and out of Ohio ??
C: You stopped him seeing his daughter?
B: never
C: He's said you have @bwehr10 he's wrote a post on his account
B: send it to me
C: Are you kidding me? Really? Id be f**king pissed if my fiancé has sex with my BF? Then got back together with me and didn't tell me! Who the f**k wouldn't be mad? It's one thing to have sex with someone I would never see or know, but your best f**king friend?? I bet that was awkward and no wonder they kept it a secret because it was freaking wrong! The best friend knew better period. I'm amazed how many people are like "get over it" like they wouldn't flip the f**k out if that happened to them. ?✋️
B: that's literally exactly what I said
Well, at least it seems that Brooke and Jeremy are on the same page now — except for the minor discrepancy in their break up timelines. Hopefully they can both move on and leave the online drama behind at this point. I'm not optimistic, but we shall see. Stay tuned.