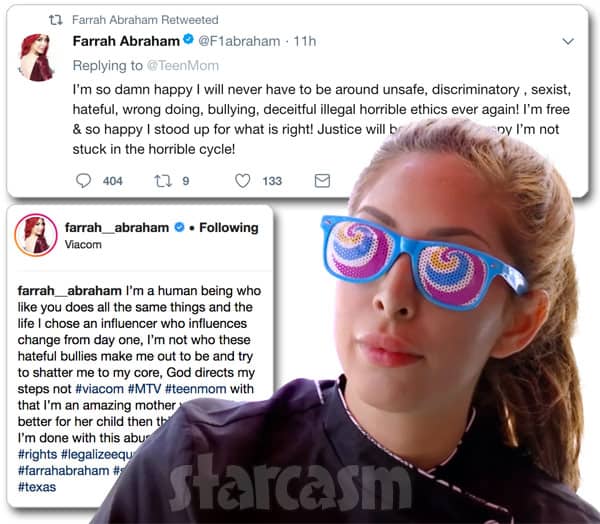 After months of anticipation, MTV finally aired the scene in which Teen Mom OG executive producer Morgan J. Freeman discusses Farrah's future on the show, and it is decided that she and the network would part ways. (I had to carefully word that sentence, because neither side asserts that Farrah was fired or that she quit — she merely would not give in to the ultimatum that she no longer pursue business endeavors in the adult industry.)
Prior to Morgan and show producer Jordan arriving at Michael Abraham's house to speak with Farrah, MTV flashes this message for viewers:
The executive producer is going to speak with Farrah about her behavior towards the producers and the adult themed webcam show she is planning to do.
Once Jordan and Morgan arrive at the house, Farrah answers the door and exchanges pleasantries with Jordan before everyone heads to the back yard for the one-to-one between Morgan and Farrah. Here is the FULL discussion between Morgan and Farrah, as aired on this week's episode.
MORGAN: Um, well thanks for sitting down.
FARRAH: Yeah, of course.
MORGAN: I, um, we want to look at just sort of how people are treated. For example, Kristen — who we all love, who we think is doing a great job — isn't here today. You don't snap your fingers and say, "New producer," and we fly one in. It's like, I think some compassion and understanding when everybody is working —
FARRAH: I am so compassionate. I am so understanding. I am working my ass off, just like everyone.
MORGAN: R-right, but you do have very little empathy or compassion for other people. Do you feel like you respect the people that are around you trying to make the show and spend all this time —
FARRAH: You know, I respect a lot of people who respect me.
MORGAN: You got rid of her.
FARRAH: No, I didn't need to get rid of her.
MORGAN: You didn't get rid of her? You didn't, like, demand, "I want Kristen out of here, she's gone –"
FARRAH: I'm sorry, I'm sure she's great. I'm sure many other people on Teen Mom — I mean, you're doing other Teen Moms — she can just go bounce around and, like, annoy the sh*t out of everybody else.
MORGAN: This makes things very challenging. And it doesn't, like, come across —
FARRAH: There's still a lot of people out there who probably need production jobs. It's not that challenging.
MORGAN: But the amount of work that goes into keeping you happy with crew has bubbled up to a point that we have to figure out if we move forward —
FARRAH: If it's overwhelming for you, I'm sure there's a better way of handling it.
MORGAN: Right, but out of nine moms, you're the only one that's a problem.
FARRAH: I'm sorry. F**king shoot me for being who I am!
MORGAN: Right, difficult.
FARRAH: I'm sorry. I'm not difficult.
MORGAN: Ohhhhhhhhh…
FARRAH: I mean, look, Morgan I don't need any more drama.
MORGAN: OK.
FARRAH: OK.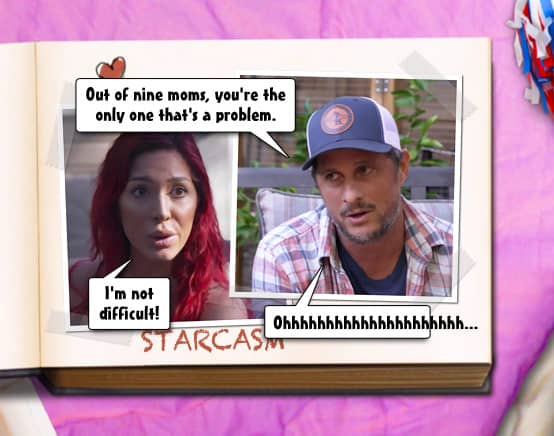 MORGAN: There's been friction around a few things too we should talk about. I think you know that — like, everybody kind of knows about some of the adult activities that have been going on.
FARRAH: "Adult activities" like my webcam promotions, or other things that other must be upset about?
MORGAN: Mm hmm. Yeah, you had said that you weren't gonna continue the adult videos, to us — that you had decided not to go down that path.
FARRAH: OK. So, webcam, to you, is a adult videos.
MORGAN: Well, the explicit nature of —
FARRAH: OK.
MORGAN: — what is being shared, and what comes up on the internet. I think it has people concerned.
FARRAH: I have no new celebrity sex tapes out there.
MORGAN: It's the same type of behavior on video that gets distributed out there.
FARRAH: OK.
MORGAN: It's the same question — it's the same issue. You can choose to do whatever you want. Like, nobody's here to cast judgment on anything.
FARRAH: OK.
MORGAN: But if you choose to work in the adult industry, we can't continue to film your show for Teen Mom.
FARRAH: OK.
MORGAN: This was a conversation that happened above me and without me, and has been given to me to come bring to you. It's basically a decision that we're asking you. You have had, like, this critical role from 16 and Pregnant all the way through this. And no one's saying that you can't do any of this stuff. It's just, if you're gonna go down that path, we can't keep shooting this path.
FARRAH: Who are you to tell someone to choose one thing? I don't have to choose anything!
The scene fades out.
When we return to Farrah and Morgan later in the episode, we see part of the scene from above, but this time it concludes with Morgan and Jordan leaving. I'm guessing they just cut and pasted the last part of the conversation and presented that portion first? I'm not sure. Anyways, here is the very brief scene:
FARRAH: I don't need any more drama.
MORGAN: OK.
FARRAH: OK. Cool. Well, let's get up and go outside now.
MORGAN: Let's do it!
FARRAH: And just enjoy your day.
Morgan and Jordan are then shown discussing Morgan's conversation with Farrah and iterate that the ball is in her court to make a decision. The scene fades out.
Later in the episode, we see Morgan and producer Jordan parking their car as they receive a call from Farrah.
MORGAN: Hey there.
FARRAH: Hi Morgan. Honestly, webcams, or adult entertainment, or healthy sex lives, or safe sex, or all of these things — all that stuff is more beneficial and I will always continue to do that regardless if it's my own show, not on MTV anymore. There are so many paths for me in my life. Hell, I'm only 26.
MORGAN: [Sighs.] Alright. Well, I want you to do what you feel like is, like, what's best for you, best for your family, best for your career.
FARRAH: Well then I will just have my lawyer contact you guys, and I wish you guys all the best.
MORGAN: Um —
FARRAH: I wish you guys the best. Thank you. Have a great night.
MORGAN: Alright, thanks Far– [Farrah hangs up]
JORDAN: I guess she's not filming any more.
MORGAN: Yeah.
In the episode's closing credits, producers include two tweets Farrah made in January expressing her anger at MTV and production:
Watching @TeenMom @mtv I'm so happy I don't welcome anymore of @MTV made up shit to help mention the other trash moms feel important lmao good luck @MTV #2018goals #Sorrynotsorry pic.twitter.com/DZoD9KB1x7

— Farrah Abraham (@F1abraham) January 9, 2018
I appreciate this great example of being a strong women through some deceitful horrible plotted contrived times on this show, it's horrible when people play dumb act ignorant like they have no clue of what their consequences for their actions our as their older then I am ??? pic.twitter.com/yCLvSrAUmM

— Farrah Abraham (@F1abraham) January 25, 2018
Those tweets were followed by text that read simply: "Farrah is no longer filming with Teen Mom." There was no mention of the pending lawsuit filed by Farrah last month asking for $5 million plus in damages.
Fast forward to Monday and Farrah reacted to MTV teasing the episode prior to it airing, and then she shared her thoughts after the episode aired. I will also include a tweet posted on Farrah's daughter Sophia's Twitter account just prior to the episode:
@TeenMom @MTV @Viacom Shame on #Viacom for creating all of this damage hate discrimination inequality wrong doing around children I've done all I can do to protect my child from this unsafe environment.I will always stand strong to influence change #justice #leadership #equality pic.twitter.com/iGLwAk4JmC

— Farrah Abraham (@F1abraham) March 12, 2018
I think it's bad @MTV @TeenMom did this to my mom, why treat a single parent like this? My mom is amazing instead you hurt her, lie, upset her&I'm proud my mom won't stand for this #rolemodel #justice #health #safety #thankyoumom #legalizeequality #leader #change ? @F1abraham pic.twitter.com/SZc0T6tUcP

— Sophia Abraham (@SophiaLAbraham) March 12, 2018
@mtv @teenmom @viacom #judgement all day fake firing threatening … I'm tired of working around a company who exploits my sexuality yet harasses me for my sexuality #timesup #unsafe boring tactics that should be stopped… let's look at your sex lives..you have no room to speak

— Farrah Abraham (@F1abraham) March 13, 2018
And that's a wrap!
What did you think of the scenes with Farrah and Morgan? Were producers justified in giving Farrah the ultimatum about not participating in the adult industry? And what about the fact that the very same episode in which Farrah was confronted about doing nude webcam shows it was revealed that Maci McKinney will be appearing on a celebrity edition of Naked and Afraid?