Fans of Bravo's Below Deck: Mediterranean are used to head-shaking antics from crew members, but I don't think anything could have prepared viewers (or the crew) for the seemingly limitless fountain of incompetence and offensiveness of Siberian Chef Mila Kolomeitseva!
We are just two episodes in, and Mila already has the entire Below Deckiverse completely aghast after a series of mind-blowingly unprofessional moments such as licking a raw steak before microwaving it for the crew, using canned corn on the most pathetic example of nachos this side of an elementary school cafeteria, and adding Hidden Valley Ranch dressing from a bottle as a secret ingredient in her foie gras burgers.
Mila's lack of culinary skills is just the beginning, though! We also have the fact that she started off her tenure on the Sirocco suffering from a bout of food poisoning. (Perhaps a result of her affinity for licking raw meat?) And then, there is her blatant homophobia.
Mila's level of incompetence combined with her outspoken aversion to homosexuals seems a little too much to be believed, and many fans are speculating that Mila is just a plant by production to drum up drama and ratings.
So what's the deal with Mila? Is she legit?
RESEARCHING CHEF MILA
A search for Mila Kolomeitseva doesn't turn up too much online, but there is a YouTube video which looks to be Mila's submission to be a competitor on Food Hero Asia. The video was posted by the show in 2016 and it features Mila "sharing her passion for food & cooking and preparing her signature Spain-inspired spaghetti with an Asian twist."
Here's the video:
Mila mentions once again that she studied at Le Cordon Bleu in Paris, but once again, she seems very careful not to say that she actually graduated from there. However, there is a photo included in the clip that seems to suggest she at least received some sort of certificate from the prestigious culinary institution — or that someone that looks like Mila when super blurry did: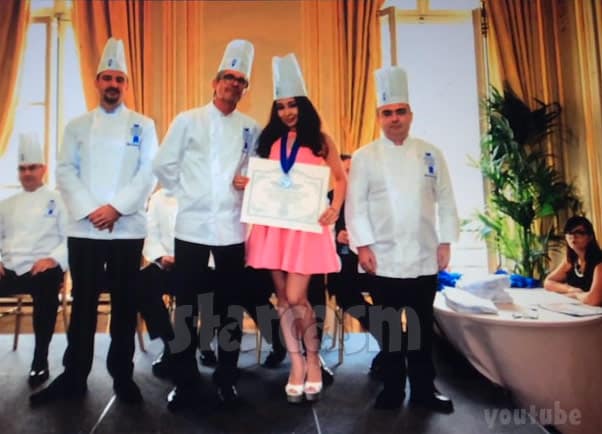 CHEF MILA'S ALIAS
When I was first looking into the cast of the current season of Below Deck Med after the trailer was first released, I found it a bit suspicious that Mila had very little social media presence — unlike the other new cast members. It was clear from the trailer that she was going to be controversial, so I just chalked up her online absence as her avoiding the inevitable backlash once the episodes started airing.
That theory still remains a viable one, but it turns out there may be another reason there was so little info available online about Mila Kolomeitseva — spelling. If you search Mila Kolomeytseva (with a "y" instead of an "i") you will find Mila's Model Mayhem profile as well as her StarNow.com profile. On the latter, she describes herself as an actor, extra, and model.
Here's Mila looking like a much more appealing snack than anything she has prepared in the galley on the show:
Mila also has a Facebook page under this alternate spelling, which includes a profile photo proudly sporting a La Cordon Bleu chef uniform while posing in front of the Eiffel Tower.
The Facebook page currently does not have any posts, but reddit sleuths managed to catch a recently deleted post in which Mila shared a Russia Truth article with the headline: "Local authorities say they will not hold any gay parades, because they want to protect children from the propaganda of nontraditional sexual relations." Mila captioned her share by writing: "Love it ? Vladimir Putin is the BEST ❤️"
Mila shared the post less than 24 hours before a fan was able to screen cap it, and given the fact that there was not much other activity on the page, combined with the url being "nutsbaby22" instead of some form of Mila's name, many speculated that it was just a troll page.
HOWEVER, we did some additional digging and found Mila used the account to apply for a yachting chef position back in June of last year! The application came in the form of a posting in a Facebook group for yacht crew jobs. It included the same photo of Mila sporting her Le Cordon Bleu chef uniform, as well as a gallery of food dishes that I assume she prepared: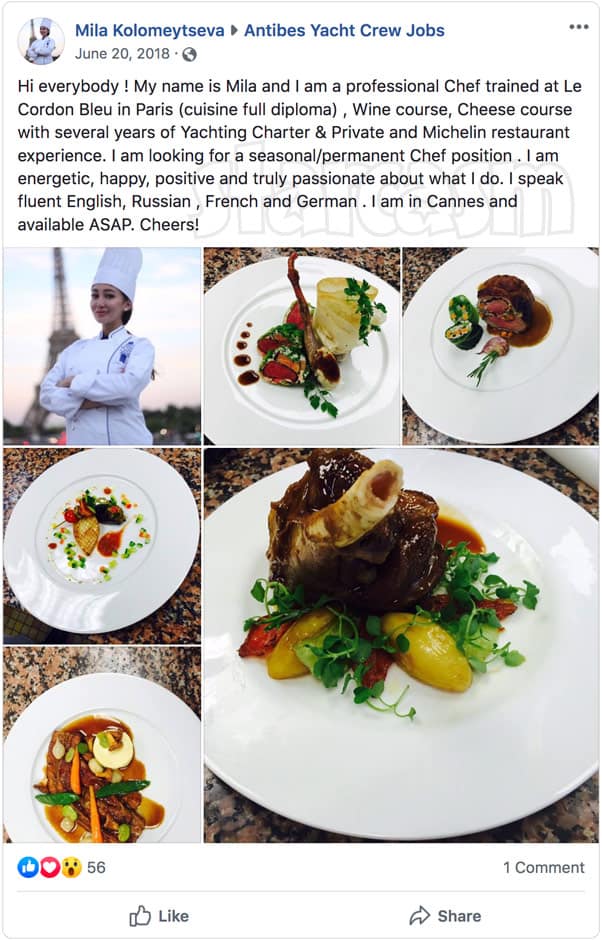 "Hi everybody! My name is Mila and I am a professional Chef trained at Le Cordon Bleu in Paris (cuisine full diploma)," Mila begins her post. "Wine course, Cheese course with several years of Yachting Charter & Private and Michelin restaurant experience," she adds. "I am looking for a seasonal/permanent Chef position. I am energetic, happy, positive and truly passionate about what I do. I speak fluent English, Russian, French and German. I am in Cannes and available ASAP. Cheers!"
I believe that is the first time we see Mila stating that she has a "full diploma" from Le Cordon Bleu in Paris.
CAPTAIN SANDY AND BRAVO PRODUCERS REACT TO CHEF MILA PLANT RUMOR
After the very first episode of Below Deck: Mediterranean Season 4 aired, there was already speculation that Mila was just a plant by producers. Sirocco Captain Sandy Yawn responded to that theory on Instagram by writing: "Lots of crazy speculation out there. We're only on EP1 with a long, hot summer to come. Stay Tuned! You won't be disappointed!"
The rumor mill continued to churn, however, and Captain Sandy responded again: "Not a setup. No spoilers, just stay tuned!"
More from Captain Sandy on Twitter:
We are real crew w real charter guests who pay for their charters. No way would we compromise their experience, and safety or the integrity of the industry. Stay tuned!

— Captain Sandy Yawn (@CaptSandyYawn) June 15, 2019
The Washington Post's Hank Stuever shared his thoughts on the Below Deck phenomenon, which included quite a few paragraphs dedicated to Mila's entertaining incompetencies. Noah Samton, Bravo's senior vice president of current production, tries to argue that producers were just as surprised as everyone else:
Currently on Mediterranean, Captain Sandy is realizing that the chef she has hired this charter season — a surly, French-trained chef from Siberia named Mila Kolomeitseva — possibly-maybe can't cook. On the first outing, Mila took a look at the American guests' preference sheets (where they list their favorite foods, allergies, or dislikes) and decided to serve tacos and enchiladas, using jarred salsa, bags of pre-shredded cheese and (this one really sent Below Deck fans reeling on Twitter) a box of taco shells. The chief stew, Hannah Ferrier, refused to serve a plate of Chef Mila's nachos (featured ingredient: canned corn); the next night the chef reheated the guests' steaks in a microwave.
"We're in trouble," the captain sighed.
"If you had seen the control room on the [production] boat when those nachos came out, you would see that [what happened] is equally surprising to us," Samton says. For all their efforts to cast a yachting crew who seem to have experience and good references, the rush to fill the jobs before the charter season begins often means having to take a last-minute chance. In the past, Samton says, there might have been time to audition chefs and have tastings of their dishes; by the time anyone realized Mila might not be a five-star chef, the charters were underway. That's a gift to producers, but Samton hastens to note: "This happens all the time in yachting."
BELOW DECK: MEDITERRANEAN SEASON 4 SPOILER
We shared a photo of the Below Deck: Mediterranean Season 4 cast having dinner back in January. The photo was taken at the famous Restaurant Le Plongeoir in Nice in October and featured the current cast as well as fan favorite chef Ben Robinson. We speculated at the time that this meant Ben would be a member of the crew this season, but when the actual cast was announced, that hope was dashed on the rocks.
It has since been reported that Ben Robinson WILL be joining the crew this season, AFTER CHEF MILA IS FIRED! That report gained a lot of momentum after Chef Ben shared an Instagram live video just after the season premiere in which he could be seen wearing the Sirocco uniform shirt from the current season.
Granted, the shirt could have been gifted to Ben by the crew, but it just makes too much sense that he will be Mila's replacement. It certainly explains Captain Sandy's "No spoilers, just stay tuned!" comment.
Get details on the #BelowDeckMed season 4 cast! Let us know who you're most excited to see again, and who has you shaking your fist at @BravoTV ? https://t.co/kHTlru9nOf

— Starcasm (@starcasm) January 30, 2019
So what do you think? Was Chef Mila a plant just to stir up drama and articles just like this one? And was it all just a ploy knowing that they would be bringing on Ben as her replacement eventually? If so, who all do you think was in on it?
Meanwhile, be sure to continue to tune in for the rest of Mila's cringe-inducing antics with new episodes of Below Deck: Mediterranean airing Monday nights at 9/8c on Bravo!
Asa Hawks is a writer and editor for Starcasm. You can contact Asa via Twitter, Facebook, or email at starcasmtips(at)yahoo.com