Authorities in Albuquerque, New Mexico have uncovered an elaborate murder plot involving four potential victims, including singer Justin Bieber! Mark Staake, 41, and his nephew Tanner Ruane, 23, were reportedly planning to kill the pop singer after his Madison Square Garden show in New York City just a few weeks ago, but were intercepted and arrested before they could go through with the plan. Now, more graphic details about the murder plot are being revealed, including the duo's intent to castrate their victims.
According to KRQE, the plan was born several years ago at the Las Cruces State Prison. Staake and Ruane were recruited by Dana Martin, who is serving two life terms for the rape and murder of 15-year-old DeAndra Florucci in Vermont in 2000. Martin recruited Staake, who was also incarcerated at that time, to kill Bieber, along with three other people. Staake, who then enlisted the help of his nephew Ruane, was to first travel to Vermont and kill two former acquaintances of Martin by strangling them with a paisley tie, Martin's singnature. Ruane was then to castrate the victims.
As police later learned, Martin was obsessed with the singer, and even had a tattoo of Bieber on his leg.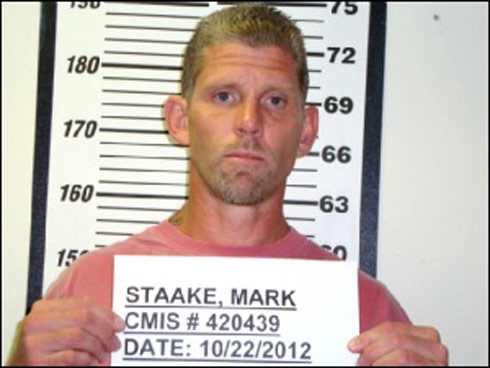 Luckily, Mark Staake (mug shot photos above) was arrested in Vermont on outstanding warrants before he made it to Bieber and the other targets. Ruane, on the other hand, made it all the way to New York City where he spoke on the phone with Martin and told him that he was disappointed that he wouldn't get to go through with the murders. What Ruane didn't know what that the phone call was being recorded by police.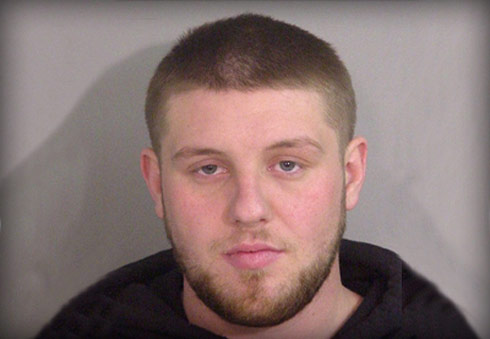 Shortly after the call, Tanner Ruane (mug shot photo above) was arrested. At the time of arrest, he had murder tools and pruning shears with him.
News reports indicate this was a murder-for-hire plot but have not revealed what Martin was offering the two men for carrying out the crimes.
UPDATE – Click here to read details from the New Mexico affidavit from the case which describes in detail how Dana Martin was able to convince Staake and Ruane to go along!
Martin was reportedly the one who turned in Staake and Ruane and foiled the plot. It is unknown at this time why.
As we mentioned earlier, Dana Martin was convicted for raping and murdering 15-year-old DeAndra Florucci of Barre, Vermont in 2000. According to online court records, Florucci and a friend were returning to school from a doctor's appointment when they ran into a man named Donald Baumgardner, who was sent by Martin to ask her to come to his house. Florucci had a history of drug abuse and truancy was reportedly offered heroin by Martin via Baumgardner.
She agreed to accompany Baumgardner there, and left her friend to wait on some steps as they headed toward Martin's home. DeAndra did not return, however, and the police were eventually notified. DeAndra's body was subsequently found under a bridge in Plainfield. Martin confessed to sexually assaulting and murdering DeAndra, acknowledging that he had conceived the crime sometime late the night before or early the same morning.
Amazingly, I couldn't find a single mug shot photo of Dana Martin online — at least none that were linked to a murder/rape in Vermont.
Justin Bieber's representatives didn't respond to requests for comment.
UPDATE – We found lots of mug shot photos of Dana Martin as well as some interesting additions to his criminal history, including writing a threatening letter to a teen girl while incarcerated in a Florida prison in 2009! Click the link to find out more!
Join Starcasm on Twitter, Tumblr, Pinterest, Google + and Facebook