We reported last week that Alexis Bellino was rumored to not be returning for The Real Housewives of Orange County Season 8, and earlier today the 35-year-old mother of three confirmed the departure in a statement.
"After three seasons of appearing on The Real Housewives of Orange County, I have made the difficult decision not to return for season 8," Alexis tells People.
"Although Bravo made me a very generous offer and I'm thankful to have had this experience, I will be leaving the show behind to focus on my family and other opportunities."
"I am so grateful to have gone through this amazing journey and to have met so many incredible fans," her statement continues. "My heart is at peace and I remain so excited for my future." (A future that includes running a brand new Sky Zone trampoline park with husband Jim Bellino!)
Gratuitous Alexis Bellino bikini photo…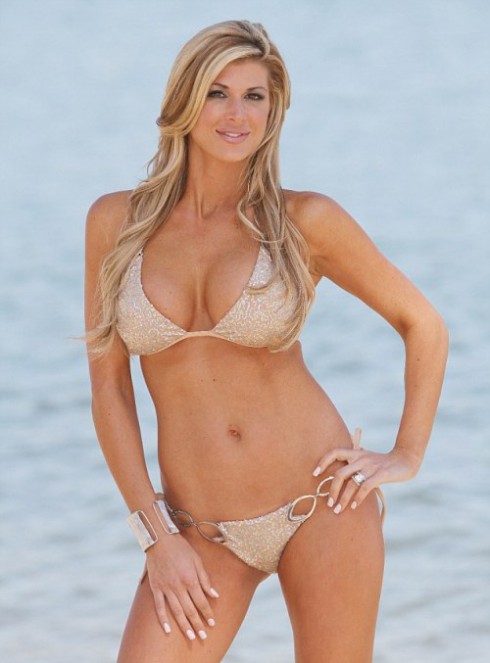 If you notice, Alexis makes it clear that it was her decision to leave — even going so far as to say she turned down a very generous offer from Bravo. This contradicts a September 18 report from E! news:
"She wasn't invited back," a source tells E!. "The crew was tired of her complaining and diva ways. They were also tired of her fame-seeking husband."
Tamra Barney also seemed suspicious of Alexis, having this Twitter conversation with @CelebRealityGal on September 18:
CELEBREALITYGAL: @usweekly is reporting that @AlexisBellino is not retuning to RHOC! Thoughts??
TAMRA: @CelebRealityGal cheers to that. But she should have been honest
CELEBREALITYGAL: @TamraBarney What do you think the real reason behind her departure is?
TAMRA: @CelebRealityGal who leaves a successful show?
CELEBREALITYGAL: @TamraBarney Not me.. So I am digging but are you saying it was Jims idea or that she wad [sic] fired?
TAMRA: @CelebRealityGal let's just say the story I read and what I was told does not match
CELEBREALITYGAL: @TamraBarney hmmm very interesting. I can't wait for the truth to come out! Thanks for sharing 🙂
TAMRA: @CelebRealityGal the truth ALWAYS comes out. Funny how that happens
CELEBREALITYGAL: @TamraBarney The truth is that if you want to DM me the REAL truth …I won't tell! LOL 😉
TAMRA: @CelebRealityGal wish I could
Gretchen Rossi's beau Slade Smiley also seemed to chomp at the bit when the topic of Alexis Bellino's departure was brought up on his Radio Slade show last week, but he too could only pine that he wish he could say what he knew.
I guess for now we will all have to give this whole story the "evil eye" and hope Tamra is right when she says "the truth ALWAYS comes out."
and how about one last parting shot…