Artist David Gilmore from the site PrettyOnTheOutside.com has been doing hilarious caricatures of Bravo's many Real Housewives for years, and getting lots of accolades from sites like ours, Zimbio, BravoTV.com and numerous others. But David seems to have grown a bit restless working small and announced earlier today that he hopes to go big — REAL big! As in murals!
I have a question…… For a long time I've been planning on painting large murals of my OC Housewives somewhere in the OC. Picture it—- you're driving down PCH in Laguna and on the side of a building is a caricature mural of Alexis Bellino…… You'd be touched by an angel. 🙂 The thing is, I'm not going to jail for illegally painting something on the side of a building. So if any of you or any of your friends own a building in the OC and want a mural of Alexis or Vicki on your building, please contact me. If you own a building in Beverly Hills, I'd love to paint Camille. 🙂 And I'd be up for an NYC trip to paint Ramona as well. Please let me know. Thanks!
Can you imagine a 40-story Ramona Singer staring down 5th Avenue?!? Or how about Alexis Bellino's Jesus Juggs stretched out on a parking garage in Los Angeles? I have to confess the Banksy/pop art fan in me is rather intrigued 🙂 So if you own a building that seems to be begging for Vicki Gunvalson's mug, then get up with David through his website or his Facebook page!
Meanwhile, let's take a gander at a few of my favorite David Gilmore Pretty On The Outside Real housewives caricatures! (Some of which are available for purchase as prints or originals!)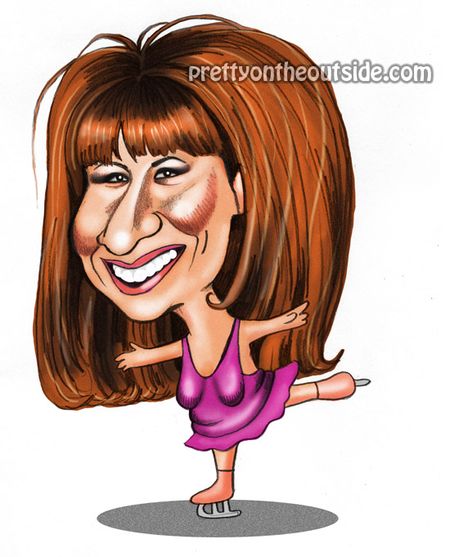 JILL ZARIN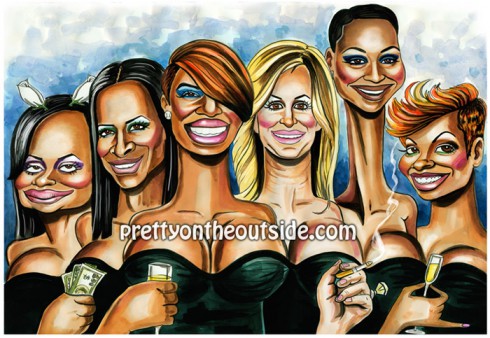 THE REAL HOUSEWIVES OF ATLANTA CAST