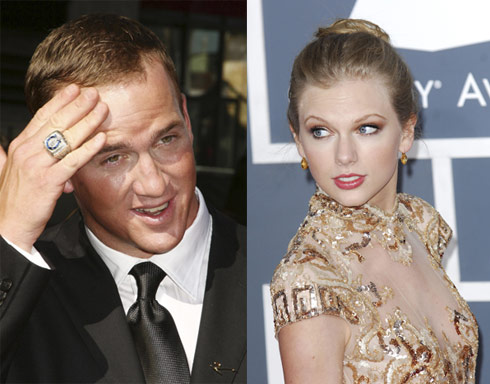 As if things didn't seem wacky enough when Taylor Swift was linked to Tim Tebow now the country superstar might play a role in the free agency frenzy for QB Peyton Manning.
Rich Eisen of the NFL Network has had to man the stations while reporters across the country are giving updates on where Manning is. It's like that Santa Claus NORAD tracker but instead it's a dude who's really good at tossing a football. The most recent, "Where on Earth is Peyton?" sighting had him landing via a private jet in Nashville to talk with Titans owner Bud Adams.
The area man on the horn in Nashville is Terry McCormick with TitanInsider.com. He was giving the lowdown and revealed that the most wanted man in America was allowed, according to some dude who called in to a local radio station, to use Taylor Swift's personal hanger that's the usual home for her personal jet. That's right Peyton was able to park in Taylor's spot.
"They parked Bud Adams' private plane in Taylor Swift's airplane hangar at the airport and ushered him out of there, to get away from the media, and transported him over to the Titans facility."
Ironically, one of the other major players for Manning's services is Tebow's team the Denver Broncos.
Every little bit helps and this is as irrelevant a lead as any of the sports talking heads are making right now! And hey, I just bet Taylor Swift's hangar for her private jet is pretty sweet!
Image: Adriana M. Barraza / WENN | Apega/WENN.com