Notorious Dance Moms instructor Abby Lee Miller announced last March that she was quitting the show as she called out producers for making her feel manipulated disrespected and used — all while her sentencing loomed for bankruptcy and fraud convictions. Perhaps the show was willing to bring on a new production staff, because Abby Lee Miller will reportedly be back for Dance Moms Season 8!
The scoop comes via a source for Entertainment Tonight. "The 51-year-old reality star will be making her comeback on the Lifetime series' upcoming eighth season," the site reports.
In case you missed Abby Lee's announcement, she emphasized that she enjoyed working with the children on the show, but it was the male producers with very little dance experience that made working on the show so intolerable.
"I don't have a problem working with any kid, I love children and have dedicated my life to making other people's children successful!" Abby stated, before turning up the text volume with the ALL CAPS key: "I JUST HAVE A PROBLEM WITH BEING MANIPULATED, DISRESPECTED, AND USED – DAY IN AND DAY OUT BY MEN WHO NEVER TOOK A DANCE LESSON IN THEIR LIVES AND TREAT WOMEN LIKE DIRT!"
Not only is Abby Lee Miller's return a surprise, especially given her current battle with cancer, but it is also a surprise that the show is returning at all! It was reported in September of last year that the show had officially been cancelled by Lifetime. Of course, we knew at the time that being "cancelled" doesn't really have much finality to it these days:
I should point out that the reality television industry is notorious for rebooting shows, so it may very well be that Dance Moms will be back after a 366-day hiatus. Time will tell.
Abby Lee Miller's planned return to the show appears to be verified by the show's casting page which states that "Abby Lee Miller is currently holding auditions for her new ALDC elite competition team."
The casting call also indicates that it isn't just for the dance studio, but for a television show. "Are you ready to showcase your kid's talent on national TV?" it asks potential applicants.
Here is the full text of the casting call as well as a graphic with slightly different text:
DANCE MOMS

Seeking serious competitive dancers and their moms!

The most infamous dance instructor in the world is going back to her roots and only interested in parents who are ready to take their kids to the next level.

Abby Lee Miller is currently holding auditions for her new ALDC elite competition team. Dancers must be MINIS 7-9 or JUNIORS 10-12. All must be serious about competing and winning on a national level.
Are you a Dance Mom actively involved in your kids dance career? Is your kid destined for greatness in the dance world? Will you do whatever it takes to make your kid a star? Are you ready to showcase your kid's talent on national TV?

If so, the new ALDC elite competition team is for you! Mom if you feel your kid is an "Abby Dancer" we encourage you to apply.

To be eligible for DANCE MOMS, your kid must be 7 to 12 years old. Please register by filling out the casting application NOW to be considered. You may also email castingdancemoms@gmail.com if you have any questions.

You must be available for final callbacks in front of Abby Lee Miller the weekend of Sept. 8-9!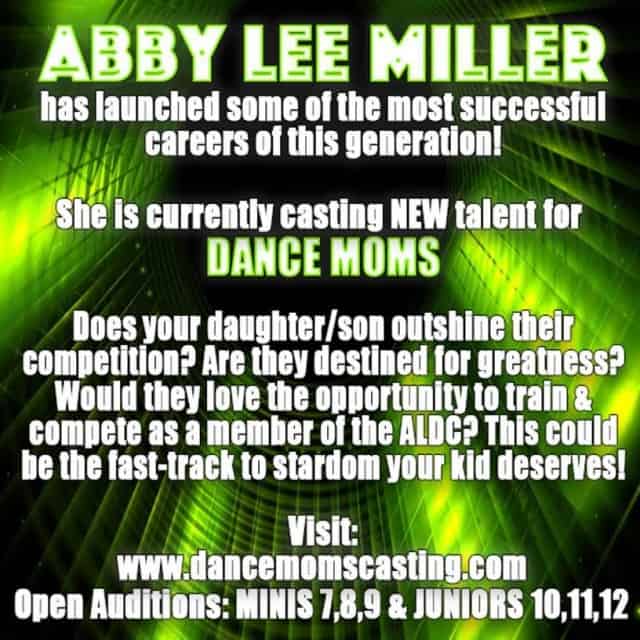 The casting call links to an application form with a series of questions that include several mentioning Abby Lee by name. Here are some examples:
Have you met Abby or has she ever seen your kid compete? If so – when and where?

Are you afraid of Abby Lee Miller? Why or why not?

How do you feel about Abby Lee Miller's teaching methods?
* It is possible that the casting call and application form are old, but I plugged the url into the Internet Archive and it doesn't appear as though the casting page was active as late as September of last year.
I'll be the first to confess that I'm curious to see Abby Lee Miller return for another season of Dance Moms, not to mention extremely hopeful that she is able to! I simply cannot imagine that a stint in prison and battling cancer hasn't humbled her, and it would be inspiring to see her still have success as a dance coach without being the notorious tyrant she is famous for being. If she comes back and tries to be the same ol' Abby, I'll probably be flipping that channel ten minutes into the first episode.
But that's just me! What do you think of Abby Lee Miller's potential return for a brand new season of Dance Moms?
Asa Hawks is a writer and editor for Starcasm. You can contact Asa via Twitter, Facebook, or email at starcasmtips(at)yahoo.com