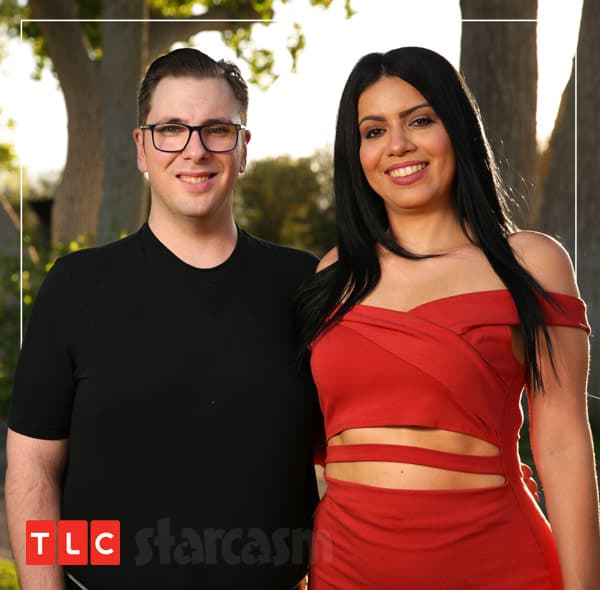 90 Day Fiance star Larissa Dos Santos Lima was arrested and charged with domestic battery on Saturday after an alleged altercation with husband Colt Johnson, and it was later discovered that this was the second time in five months that she had been arrested for the same charge. The 32-year-old Brazilian has since been released and has returned to social media where she updated her fans to assure them she is OK and to clarify some of what did and didn't happen.
"Hello everyone. Thank you for the support and love," Larissa wrote in a text message via her Instagram story. "I am safe and resting," she assures everyone. "The past 48 hours have been the most difficult in [my] life. But reading the messages from all of you has made me smile. God bless and thank you. I'll update soon."
She followed up that message with another one, revealing that "nobody was scratched or hurt." She then seemed to respond to Colt's statements on Saturday by insisting: "I'm not severe[ly] depressed." (Colt had posted in his own Instagram story that "She suffers from high anxiety and severe depression.")
Larissa continues by referencing her first arrest and the problems that it caused her:
I had depression and anxiety after my first time on prison. I went to doctor and after we found the best medicine I'm good. My first time on jail was decisive for my second arrest, please don't share things that they have a reason the only reason was my first arrest even was dismissed. thank you
Larissa also shared a post written in Portugeuse that seemed to explain what happened a little better. Here is the original followed by the result after running it through Google translate:
Amigos eu estou bem. Eles me prenderam após verem no sistema a minha primeira prisão mesmo que foi arquivado o caso. Fui brutalmente mal tratada após eles verem isso. Sofri muito, muito. Não sou severamente depressiva, eu fazia todos rirem. Eu estou vendo o que vou fazer, estou muito triste com a situação. Obrigada a todos

Friends, I'm fine. They arrested me after seeing my first arrest in the system even though the case was closed. I was brutally mistreated after they saw it. I suffered very, very much. I'm not severely depressed, I made everyone laugh. I'm watching what I'm going to do, I'm very sad about the situation. Thank you all
Here is Colt's full statement about what happened from this weekend:
Larissa was arrested this afternoon. She suffers from high anxiety and severe depression. She over reacted to problems that do not exist.

I proceeded to deactivate her phone to try to defuse the situation. This escalated issues and matters became worse. She felt this action was a threat towards her and tried to reach out for help. Not long after her cry was posted, the police came and knocked down the front door. They drew their guns at me and handcuffed me.

The police interviewed us but not long after they decided to arrest Larissa. No one was hurt and I did not press charges against my wife. However it is policy in the state of Nevada that since we are in a domestic partnership, someone had to be arrested.
Let me try to do the opposite of 90 Day Fiance producers and piece together the least sensational potential narrative of what happened on Saturday by combining what Larissa and Colt have said.
Colt's mother Debbie was out of town to appear on the 90 Day Fiance Live After Show Sunday night, so that left Colt and Larissa alone in the house for the weekend. Colt had said that they could do something special, but it appeared to Larissa that he wasn't going to follow through on that promise. They had a small argument, at which point Colt left.
Colt returned with flowers, which viewers will know was a substantial gesture from him. Whatever issues that Larissa has been struggling with as far as depression and anxiety were having a substantial effect on her by this time. At some point, a small wire shelf was turned over, spilling a few shoes (if flip flops are shoes), a bunch of padlocks, and a handful of other small items onto the floor. I'm guessing Colt left again, but I suppose he could have just gone upstairs.
[I'm going to get REALLY speculative here.] TLC producers do not want the couples to spoil things as far as whether or not they got married, so Colt was trying to discourage Larissa from posting about their relationship on social media. Also, Colt was likely receiving lots of DMs from women, and he was probably entertained by interacting with them — although it could have easily just been innocent fun on his part.
Larissa perceived the combination of Colt not wanting her to post about him online with the fact that he was interacting with strange women (and women from the show, according to Larissa) as a HUGE issue and she had a meltdown after the flowers and shelf overturning — as evidenced by her emotional string of Instagram posts throughout the day talking about it.
Colt saw that Larissa was [for lack of a better term] freaking out, and that she was doing so very publicly, so he deactivated the data capabilities on her phone, essentially locking her out of Instagram. Colt assumed that would help diffuse the situation, but it had the opposite effect.
Larissa went into the bathroom with a laptop computer and posted a series of comments and even changed her Instagram bio indicating that she was in serious trouble and needed help — so fans called the police.
Police arrived on the scene assuming that Colt was the aggressor in a domestic dispute. After knocking down the front door, cops placed Colt in handcuffs and interrogated him and Larissa about what had happened.
At some point, police became aware of Larissa's previous arrest for domestic battery, even though the charge was dismissed. If what Colt says is true, because police were dispatched and because the two are married, someone had to be charged — so police decided Larissa was more at fault than Colt. She was placed under arrest and charged with misdemeanor domestic battery.
The internet found out, and here we are. My guess is that Colt and Larissa probably can't go into detail about what happened due to their TLC contract, so they (and we) are left at the mercy of internet speculation.
Speaking of internet speculation, Colt expressed his frustration over it with a digital drawing of Homer Simpson and an angry condemnation of internet sleuths:
Self proclaimed internet sleuths who think they are Woodward and Bernstein. They are simply people that spread misinformation, lies and chaos to make themselves look important. They are nothing and will never be relevant.
And speaking of those aspiring Woodward and Bernsteins, there have been rumors swirling about Larissa's past. But, all we know for certain is that Larissa was married before — as we first reported in September after we received her and Colt's marriage certificate.
We also don't know much at all about the incident(s) leading up to Larissa's first arrest back in June. However, show producers did apply for media access to the court proceedings after that arrest, and a judge granted them access. So I assume we will know more about what happened on an upcoming episode this season.
Asa Hawks is a writer and editor for Starcasm. You can contact Asa via Twitter, Facebook, or email at starcasmtips(at)yahoo.com