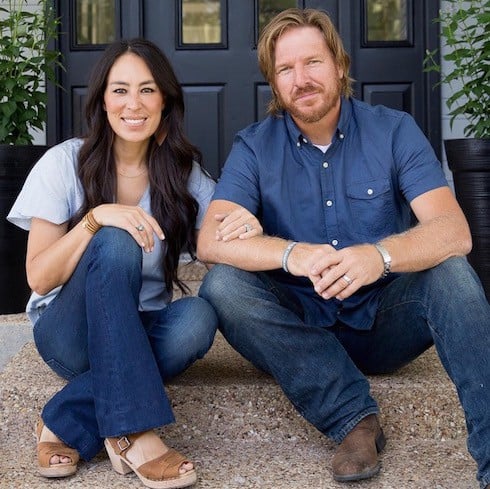 Chip and Joanna Gaines decided to end Fixer Upper, their massively successful, HGTV-defining home renovation show, in part because they wanted to spend more time with their children and extended family and in part because of creeping concern for their own safety. That's the takeaway from a pair of new reports–one of which cites Chip's mother, Gayle, as a source–and it adds a sad new dimension to the Gaines' popularity and approachability. (If you still don't believe that the pair's announcement of Fixer Upper's end is real, you can read it in full here.)
The more eye-opening of the two new reports comes from Us Weekly–but keep in mind that it relies on anonymous sources and may be less reliable than you'd think. According to their take, the answer to the "Why did Chip and Joanna quit Fixer Upper" question is simple: they were worried about themselves and their four kids. Chip and Joanna apparently saw a "security issue" in the people who would "drive by and…take pictures in front of their house," said the unnamed source. The anonymous insider then added, "I think they just want to take a step back from it."
Chip and Joanna certainly admitted as much in their announcement, saying they "recognize[d] that they need to catch [their] breath for a moment." And, as families who've had their homes featured on the show can attest, drive-byes, requests for photos, and even knocks on the door at all hours are par for the course. Several participants have moved into new houses in order to escape the scrutiny. Most infamously, when the Barndominium went on Airbnb last year, the amount of traffic the house's presence generated on its tiny residential street became a major controversy.
More than anything else, though, Chip and Joanna quit Fixer Upper because their lives had become too busy. That's what Gayle Gaines told Closer Weekly for their feature on the show: in Gayle's own words, "They earned some time to rest." Gayle added that her son and daughter-in-law "care very much about how their children turn out, and they are very well aware that spending time with them and investing in their lives is important."
And former Fixer Upper associate producer Sydney Noh echoed the sentiment, saying that the Gainses had been planning to retreat for some time. "As far as I've known, they've always planned on stepping out to make sure their kids got to enjoy part of their childhood out of the spotlight," Noh explained. "[Chip and Joanna's] ability to know when it's time to step out and move into a new part of their lives is a testament to what amazing people they are."
Astute fans have also noted that Chip and Joanna's statement on the end of Fixer Upper doesn't say that they'll never ever film episodes of the show ever again. In fact, an optimist might read an eventual return–maybe once the kids are a little older, or are out of the house altogether–into a couple of choice paragraphs:
Though our Fixer Upper chapter is coming to a close, we aren't done with Waco. We aren't done renovating homes. We aren't done designing things to make your home your favorite place on earth. We aren't done working towards restoration in all things or helping out those who could use a hand. In fact, in all of these of things, we are just getting started.

Who knows what the future holds, but we're excited for whatever is around the bend and in the meantime, we will definitely be staying in touch.
In related news, Fixer Upper Season 5 is still coming, and reruns will air in marathons on HGTV probably until the end of time.
(Photo credits: Why did Chip and Joanna quit Fixer Upper via Instagram)