TLC announced back in June that they will be introducing TV viewers to a brand new batch of Amish youths leaving their families and communities behind to take a big bite out of The Big Apple with Breaking Amish Season 3, which will be set in the New York City borough of Brooklyn. Today the network released an extended preview trailer for the upcoming season in which we get our first extended glance at Miriam, Vonda, Barbie, Bates and Matthias as they encounter the wonders of The City That Never Sleeps for the first time.
Here's the scoop on the new cast with some photos from the trailer:

Miriam Troyer, a 26-year-old mom from Ohio is currently being shunned for continued disobedience to her Amish community. She must make the difficult choice to either go through confession or leave her family behind. With her dream of working in construction, Miriam wants to make a better life for her son, but she must decide whether being away from him is worth it.

Bates is a 21-year-old, carefree spirit from Ohio who does not fit into his family's Amish lifestyle and dreams of one day becoming an actor. Bates has a rocky relationship with his father because of his non-Amish ways, but his mother and siblings will be crushed if he chooses to leave the Amish culture for good.

Vonda Schrock, a 29-year-old from Indiana, is already committed to the Amish faith through her baptism and risks losing it all if she chooses to leave. After losing her previous boyfriend to cancer, Vonda is now more ready than ever to see what else is out there for her.

Barbie, a 22-year-old from Kentucky, wants to get the full English experience even though she is getting pressure from her parents to settle down. Leaving her longtime boyfriend will be very difficult and although he has always been supportive of her dreams, their relationship will be tested as she ventures to New York.

Matthias, 21, was adopted by his Amish parents in Ohio but has never officially joined the church. He has always wondered about his birth family and hopes to find some clarity in his search for acceptance. He recently married a Mennonite woman and is expecting a child later this year, so he must decide if he should pursue his music career or stay home and raise his family.
One major thing viewers can expect judging from the trailer is a confrontational scene in which somebody's wife confronts one of the cast members for sleeping with her husband! And the scene is so explosive it knocks down the fourth wall!! (i.e. you can see the camera crew)
And here's my favorite quote from the trailer from when the crew first arrive in New York City:
The trailer also included some great shots of the cast after going English, and they look pretty dang good! Well, at least these three do. 😉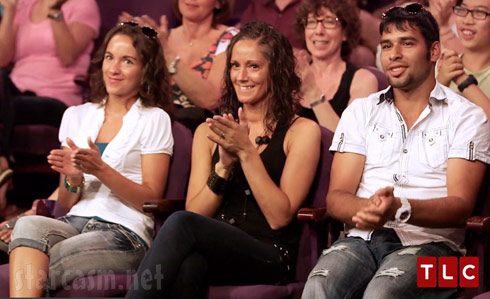 Breaking Amish Season 3 in Brooklyn premieres Thursday, September 18 at 10/9c on TLC.