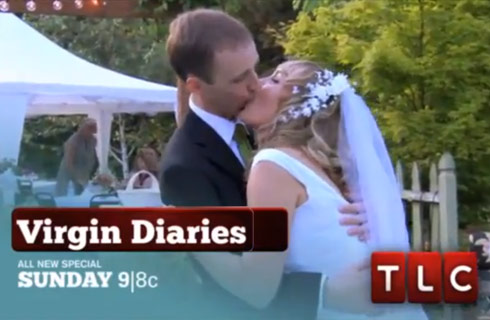 It's amazing that 15 seconds of cringe-worthy affection could spawn a reality television franchise, but that seems to be exactly the case with TLC's Virgin Diaries. The network aired their first one-hour VD special in December of 2011 and it featured a wedding of dualing virgins Ryan and Shanna who had never even kissed when they were pronounced husband and wife. What happened after the preacher said "you may kiss the bride" single-handedly reduced the mononucleosis rate in America by 36 percent. Here's an animated gif of that very special moment in which some dude aggressively tries to eat his new brides tongue. (You can watch the full original trailer as well as an extended clip with just Ryan and Shanna HERE)
Though there is no set air date yet, TLC announced via press release that they plan on airing two more Virgin Diaries specials that will premiere in late summer of 2012. Here's the full official press release from TLC:
TLC SCORES WITH TWO NEW SPECIALS OF "VIRGIN DIARIES"
— Episodes are slated to premiere in late summer 2012 –
Stemming from the success of the kiss that sealed 2011 with one of the most highly-talked-about moments in television pop culture history, TLC has ordered two additional specials of its hit show VIRGIN DIARIES. Whether it's by choice or chance, both men and women, some well into their 30's and even 40's, are holding on to their virginity. VIRGIN DIARIES, which premiered in December 2011 to over 1.3 million viewers, follows the lives of inexperienced individuals and couples as they go through the trials and tribulations of being a virgin in a sexually-charged culture.
From a 34-year-old Mormon who lives in his parents' basement and brings his "Wing Mom" to bars to help him meet women, to a 29-year-old lesbian virgin who loves Star Wars and dodgeball, the newest specials of VIRGIN DIARIES will take a light-hearted look inside the lives of adult virgins as they prepare for the monumental moment that has eluded them for so many years.
VIRGIN DIARIES is produced by ROAD TO AWE for TLC.