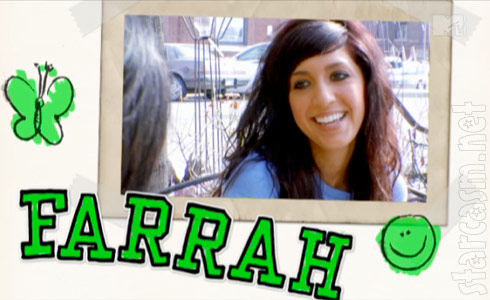 In the last two episodes of Teen Mom Farrah Abraham received her Associates Degree and celebrated by covertly purchasing her and her daughter Sophia a puppy. In an interview with MOMfinds.com Farrah opened up about her decision to buy a dog as well as her current and future plans that include writing a book, starting a vending machine franchise and opening a restaurant.
Here are a couple excerpts:
Now that you have your Associate's degree, what are your future plans? Will you continue with school or start working in a restaurant?
My 2 year plan consists of continuing my education and earning my Bachelor's degree. While in school, I'll also be releasing my first book, which is aimed to to help young teens and parents learn from my life experiences. I'll also be starting my own franchise, Healthy You Vending, which I hope to have in schools and public places to encourage healthy eating choices. From there I plan to open my own restaurant–I've been perfecting my business plan–and I will continue to create my own products and businesses and try to impact others in a positive way.
Let's talk about the dog–how has it been having a baby and a puppy?
My experience with taking on a puppy and a baby was very hard. Maybe because I'm a single parent, but it was stressful, especially potting training Sophia and the puppy. As this season continues, you'll see the tough choice I have to make about the puppy.
Farrah later says that we will find out the fate of her pooch in next week's episode, but from the sound of it I think lil Scrappy Doo Doo's 15 minutes of reality show fame are up. "I feel buying a puppy, when I had so many other responsibilities financially, just added stress," Farrah says. "The puppy became more of a chore rather than something I could truly enjoy."

I'm a big fan of Teen Mom and all the girls, and I'm usually careful not to be too critical of them (the internet does a good enough job of that without my help), but Farrah dealing with puppy poopy issues was nothing short of jaw-droppingly laughable!
In case you missed the episode, or don't watch the show at all, Farrah is living in her mom's guest house and she didn't want her mom finding out that she bought a puppy. So that means she couldn't take the dog for a walk to go potty. So what does Farrah do the first time it looks as though her new pup is about to get busy on the carpet? She takes the little dog into the bathroom and holds her over the toilet saying, "Go potty. Go potty. Go potty. Do you need to go potty?"
The scene gives us one of my all-time favorite Teen Mom screen captures:
Later on we see the little doggie running around wearing a diaper. I don't think I have to explain how terrible an idea that is! Cleaning a baby's bottom is one thing, but trying to clean off a dog who's been running around in a dirty diaper for an hour?!? Farrah, Farrah, Farrah…
One thing she didn't talk about in the interview was her new man, Daniel Alvarez. Daniel runs a web design and marketing company so I can't imagine his talents won't come into play with any and all of Farrah's future business endeavors! And speaking of Farrah's online endeavors, did she sign a deal with MOMfinds? I guess starcasm needs to look into that! Maybe we could get Jenelle writing posts for us!
Speaking of MOMfinds, be sure to head over to their site for the full interview!