More details continue to emerge about Teen Mom OG dad Ryan Edwards' heroin possession citation in March of 2017 and his arrest just over a year later for probation violation. It was previously reported that Ryan's arrest last month stemmed from a failed drug test, and now we have the proof. Surprisingly, the failed test dates all the way back to January.
The drug test was via urine and was collected on January 17 of this year. The test was received by the lab on January 22, and they reported the results on January 28.
The results indicate that Ryan tested positive for the opiate (a drug class that includes heroin) morphine with the "quantitation" result of 1587 ng/mL. According to the Mayo Clinic: "The presence of morphine in urine can indicate exposure to morphine, heroin, or codeine within 2 to 3 days."
In Ryan's defense, the results do fall within the possible range of results from eating lots of poppy seeds. "Ingestion of bakery products containing poppy seeds can also cause morphine to be excreted in urine. If excessively large amounts are consumed, this can result in urine morphine concentrations up to 2,000 ng/mL for a period of 6 to 12 hours after ingestion."
It's unclear why Ryan was not charged until more than a month had passed since his failed drug test. Then again, I am thankfully unaware of how all that works. It could be that there is a built in delay for processing?
Regardless, here is the revised timeline of Ryan Edwards' arrest and heroin possession citation, as well as other relevant events over the past year:
2017
March 12 – Ryan pulled over by Red Bank police and cited after they find 14 hypodermic needles, two spoons with residue, a scale, and 1.8 grams of heroin in an open backpack.
April 10 – Ryan has a court date for the heroin possession citation, at which point he usually would have officially been "arrested" with a mug shot photo taken, etc. The arrest never took place (or at least there is no record of it online), and Ryan is sentenced to one year of probation. I assume part of that sentencing was a required stint in rehab.
May ? – Ryan allegedly "showed up under the influence of heroin" at Bentley's baseball game and "got in [Maci's] face, yelling and threatening to hurt [her]."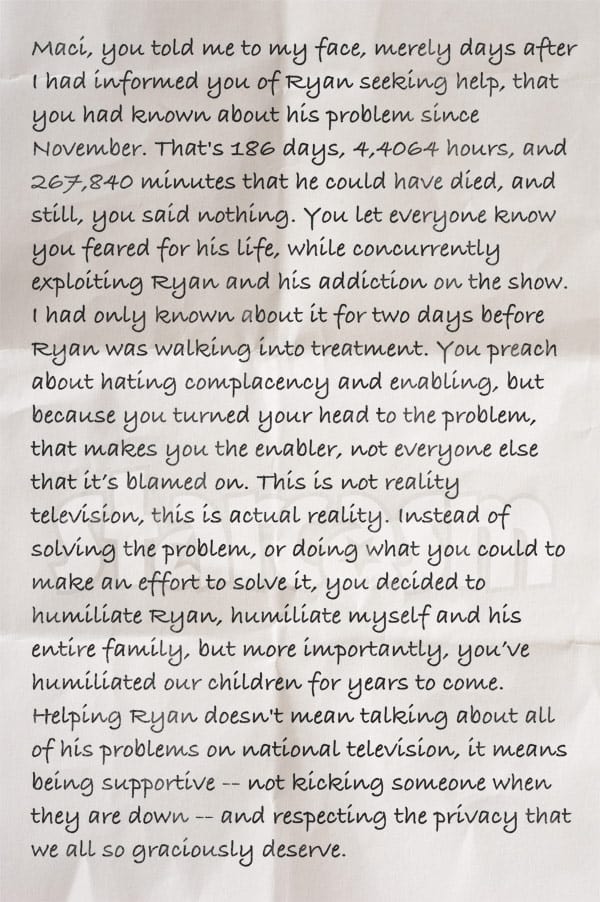 May 14 – Mackenzie Edwards is first made aware that her husband has a drug problem, according to her "open letter" to Maci read aloud at the Teen Mom OG Reunion with Dr. Drew (photo above).
May 15 – Ryan and Mackenzie have an impromptu wedding, at which Ryan was clearly high.
May 16 – Ryan checks into a rehab facility in Texas.
June ? – Ryan checks out of rehab early.
November 18 – Ryan and Mackenzie have a wedding ceremony attended by friends, family, and MTV.
2018
January 17 – Ryan takes a random urine drug test.
January 28 – The laboratory handling Ryan's urine test reports that he failed after testing positive for opiates and morphine.
March 20 – Ryan allegedly places a call to Taylor in which he "threatened to show up at [Taylor's] house and put a bullet in [his] head." Taylor calls the police and they suggest filing a protective order.
March 23 – Maci and Taylor file protective orders against Ryan and a temporary protective order is put in place.
March 26 – MTV reveals that Mackenzie Edwards is pregnant in a Teen Mom OG preview clip.
March 27 – Ryan Edwards arrested for probation violation stemming from his 2017 heroin possession citation. It is assumed that his probation was revoked after failing a random drug test in January.
March 28 – New reports surface that claim Ryan is back on the dating app Tinder talking with women.
March 28 – Mackenzie Edwards issues a statement about Ryan's recent arrest in which she says Ryan was originally charged in April of 2017:
"Possession of heroin was the original charge from April before he went to rehab," Mackenzie said. She then assured everyone that Tuesday's booking was nothing to be concerned about. "Part of his case was he had to be booked. Everything is fine." As far as whether or not Ryan is currently sober, Mackenzie says "he took a drug test yesterday and passed."
April 2 – A court hearing is scheduled for Maci and Taylor's protective orders against Ryan, but both are delayed until May 21. The temporary protective orders remain in place until then.
Ryan's failed drug test results originally reported by Radar Online.