The Real Housewives of New York City OG Ramona Singer has been named in a lawsuit by a former employee alleging that the reality star duped Bravo out of thousands of dollars for designer clothes she never wore. In addition, the former employee claims that she was not compensated for all the time she put in and was often asked to perform tasks outside the scope of her job description. Before you start shaking your damn head and calling for Ramona to be fired from the show, I should point out that there is A LOT about this lawsuit that seems REALLY fishy — including evidence that this isn't the first time this person has sued Ramona.
The new lawsuit (included in its entirety at the bottom of this post) was filed on Friday by T360 Inc., which is a company that looks to essentially be one woman named Lisa Taubes. According to the filing, Lisa "was hired by RMS to promote and brand its sole proprietor, Ramona Singer, from January 2016 to December 2017." It claims that T360 (Lisa) was hired "as a manager for Ramona Singer to market the RMS brand, products and obtain publicity and appearances for Ramona Singer."
Here are the terms of the agreement between T360 and RMS Fashions — according to the suit:
• T360 would be paid a base of $4000 per month for a 15-20 hour commitment and will be paid for any hours exceeding 20 hours in a month.

• In addition, T360 would be paid commissions for 3% fee on gross sales for product that is developed and sold and for public appearances that Ramona Singer gets paid on T360 will receive a 10% fee.

• If Defendants decided they did not need T360's service, Plaintiff must receive 60-day notice and payment for the 60-day period.
T360 claims that Lisa often worked in excess of 40 hours a week, but was never paid more than the base rate of $4,000 a month. "Defendants would contact Plaintiff at all hours during the day and night and expected Plaintiff to be on call round the clock to answer her texts, calls and demands," the suit claims, adding: "Defendants would often demand Plaintiff work over the weekend."
And not only did Ramona allegedly not pay Lisa for the hours she worked, but she also allegedly asked Lisa to do things not in her job description — including fraud! From the suit:
Defendants often demanded Plaintiff perform task and duties outside the scope of the agreement. These tasks include but are not limited to bookkeeping, dog walking, payment of personal bills, searching for furniture and apartment decor, and other personal errands.

Defendants routinely instructed Plaintiff to engage in unethical practices by submitting false receipts to networks for reimbursement on clothes. Specifically, Defendants asked Ms. Taubes to purchase designer clothes for the filming of Ms. Singer's show, and instructed Plaintiff to submit receipts to Bravo Cable Network for reimbursement and then asked Ms. Taubes to return the clothes for refund.

Defendants also instructed Plaintiff submit fake receipts for reimbursement on clothes that she already owned and demanded Plaintiff carry out these tasks.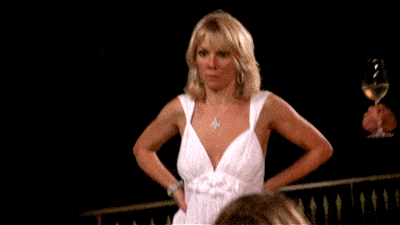 Adding insult to injury (or, more accurately, injury to insult), Ramona supposedly shoved Lisa in the lobby of her apartment building after firing her!
…on December 13, 2017, Defendants fired Plaintiff in the lobby of Ms. Singer's residential building.

Ms. Singer publicly humiliated Plaintiff by pushing Ms. Taubes to sign a non-disclosure agreement.

When Ms. Taubes refused to sign the papers, Ms. Singer shoved Ms. Taubes, grabbed Ms. Taubes handbag and overturned the contents of the handbag in the lobby.

Several people in the lobby witnessed Ms. Singer's demeaning conduct and Ms. Taubes, with the assistance of a doorman, collected personal belongings of her overturned handbag.

In addition, Defendants' breached the agreement between the parties because they did not give Plaintiff 60-day notice or pay Plaintiff for the 60-day period.
Lisa is looking to receive a minimum settlement of $100,000 for the unpaid wages and a minimum of $50,000 for the breach of agreement — in addition to legal fees and court costs.
OK, there's a lot about this lawsuit that seems suspect right off. I'm fairly certain that Ramona has an agent, so it makes no sense that she would hire on Lisa part time "as a manager for Ramona Singer to market the RMS brand, products and obtain publicity and appearances for Ramona Singer." And then Lisa claims that she worked twice as many hours as she was getting paid for FOR TWO YEARS before getting fired and then filing a lawsuit? That is possible, I suppose, it just seems odd.
Then there is the question of whether or not Bravo reimburses cast members for wardrobe purchases at all. Tamra Tattles says the answer is an emphatic "nope:"
If you remember this Blind Item, about dresses, I will now let you know in case I didn't before that it was about the RHONY. I posted that blind in January of 2017. At that time, I had been shown a group email sent to some of the housewives from one of the housewives. The sender was NOT Ramona. The women were furious that they had to buy four dresses one long red, one short red, one long black and one short black to tape the season intro and they would not be reimbursed. They complained about having to purchase their wardrobes all season and then buy dresses on top of that they would not buy on their own. Bravo does not reimburse housewives for wardrobe.
Also, while researching this case, I ran across something VERY peculiar. According to online court records, this isn't the first time that Lisa has sued Ramona and RMS Fashions! Lisa previously sued Ramona's company RMS Fashions back in 1999 under the name of one of Lisa's other businesses called L.G.T. Sales. The civil suit was disposed nine years later in 2008, but I could find no details about what the lawsuit alleged or what was decided.
How in the world did a woman who sued Ramona Singer's company wind up working for her years later? This has GOT to be an interesting story! Unfortunately, Ramona has yet to address the lawsuit publicly, although I am sure we will be getting a statement from her or her rep in the next couple days. Stay tuned!
In case you were curious, Ramona founded RMS Fashions when she was 30 years old. Ramona talked a little bit about the birth of her company in an interview with CBS Money Watch. Here's an excerpt:
Q: Ramona, of all the housewives, you're the one with the longest career. How did you get into the business of wholesaling clothes?

A: I put myself through college in the 1980's by working at Macy's. I wanted to be a buyer, so I got a job as an assistant sales manager, and that got me into the management training program. From there, I decided to go into the wholesale business, because you can make more money working less hours. I had the opportunity to buy 10,000 units of clothing for $10 per unit — but I offered them $7 per unit if I could pay cash. My father loaned me the money, and I paid him back in four months. That's how I founded RMS Fashions at age 30.

I'd cold call to gain new clients. When I heard that Leslie Fay was closing, I'd run over and buy 20,000 dresses. You have to have the personality for it. I love negotiating. I think women need to pick up their math skills. It's the number one thing. If I buy a product and have to hold it for six months, well, what are the warehouse charges? Will I make a profit?
Here are the full documents from the lawsuit filed by Lisa Taubes and T360 Inc. against Ramona Singer and RMS Fashions — click to enlarge pages: