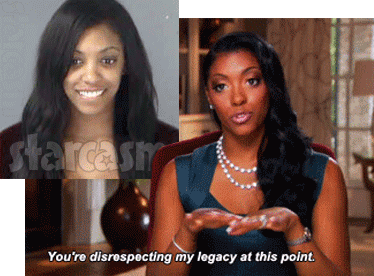 The Real Housewives of Atlanta's Porsha Williams was pulled over for speeding while driving her Rolls Royce 78mph in a 55mph zone on December 29, and she was later arrested after it was determined that her driver's license was suspended because of her "Failure to Appear" for a prior citation. Porsha issued a statement explaining what happened, but the police report highlights some things she left off — like repeatedly calling the arresting officer "a**hole" after she was asked five times to place her hands behind her back.
First off, here's Porsha's statement about the incident, as released via Dish Nation:
I was headed to visit my grandfather who is very ill with cancer in the hospital, and I was pulled over. I was wrong for speeding absolutely and apologize for putting anyone at risk. I tried to explain the situation to the officer and show him that all my paperwork was in order, but he refused. Handcuffs are not comfortable or a good look for anyone. I was released, I have my license, my car, and my freedom.
And here is the incident report from the arresting officer, as obtained by Atlanta pop culture journalist extraordinaire Rodney Ho of the AJC:
On the afternoon of December 29, 2014, I was patrolling I-20 in Fulton County. I observed a gold Rolls Royce traveling in the second lane from the barrier wall on I-20 at a high rate of speed. I activated my Stalker Laser which was checked for accuracy earlier this date. A speed of 78 mph was displayed. [The speed limit was 55.] I initiated a traffic stop in which the driver was identified as Ms. Porsha Dyanne Williams by her Georgia's Drivers License.

As I ran the name of Ms. Williams through GCIC, a suspension for Failure to Appear was brought to my attention. I asked Ms. Williams to exit her vehicle and she complied.

I advised Ms. Williams that her license was suspended for Failure to Appear. She stated she paid the citation.

I told Ms. Williams four times to turn around and place her hands behind her back and she refused. On the fifth request. I stated I will be going hands on if you refuse to put your hands behind your back. At this time Ms. Williams complied and I placed handcuffs on Ms. Williams.

Ms. Williams repeatedly used the term a**hole referring to me. TFC Mitnaul arrived to the scene and transported Ms. Williams to Atlanta Pre-trial without any further incident and released to their personnel. Several items were moved from the seating area of the vehicle to the trunk. The vehicle was towed to Buckhead Wrecker Service.
I kinda wish she had repeatedly asked "Who gon arrest me, Boo?" 😉
It's unclear whether or not Porsha had in fact settled up her previous issue, but it would seem quite brash for her to claim "I have my license" if not.
Now we all just sit back and wait for the dashboard camera footage to surface.