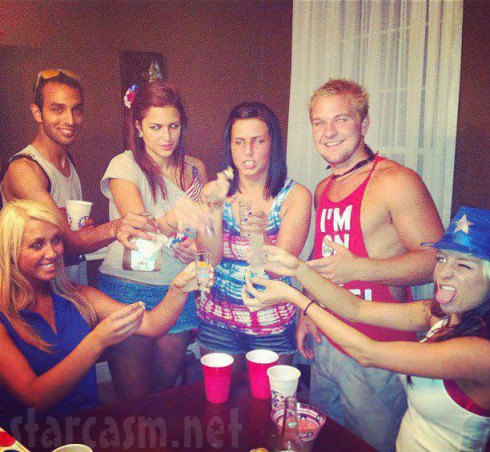 Teen Mom star Maci Bookout made a few headlines over the 4th of July holiday as a photo surfaced on Radar Online of her allegedly drinking a beer while at her family's annual Bookout Cookout. The site seemed to work awfully hard to get the picture, when all they had to do was pop on over to Twitter to check out some much more festive Maci Boozout pics featuring the 20-year-old single mom enjoying what appears to be shots of tequila while wearing a festive, patriotic blue and silver-starred fedora.
Radar Online has an inside source (I don't know, there's something un-American about a Fourth of July cookout rat) who says, "I saw her drink a lot." Then, "She had at least 6 beers and she was at the party for four or five hours."
Maci wasn't driving and turns 21 in August. I did a little research and apparently Tennessee doesn't have exemptions for underage drinking if the parents are present, though lots of states do.
This isn't the first time Maci has been caught in the act. In early 2011, Maci had made headlines when photos surfaced of her and her friends on Spring Break in Panama City Beach. The photos featured Maci drinking out of a mysterious red cup (we all know what that means) and even a beer bong. Honestly, most college age kids don't pass up a party because they're underage, so this isn't a big deal.
Meanwhile, Maci seemed to thumb her nose at the Radar Online article with this announcement on Twitter yesterday:
I really want to be a bartender. not at a club but somewhere cool. i feel like id be so good at it. hm?
Oh boy! That's sure to raise some eyebrows in the Teen Momiverse! (For no real reason. Being a bartender is a pretty great job depending on where you're working.) So I guess this means she's abandoning the whole broadcast journalist thing?