It's #HairNewsFriday, apparently. On the heels of one celebrity shedding his famous locks for a more stripped-down look, here comes the news that another, bigger name has taken his hair in the opposite direction.
And on the opposite end of his face, no less.
Mr. Leonardo "Inception" DiCaprio, looking more like the real wolf of Wall Street than anything resembling Jay Gatsby, was in attendance for the special VIP preview of Art Basel in Miami Beach this week.
He snagged a 1973 work by noted minimalist Frank Stella for just a shade under one million dollars–or, as it's known in elite circles, "a Dr. Evil ransom."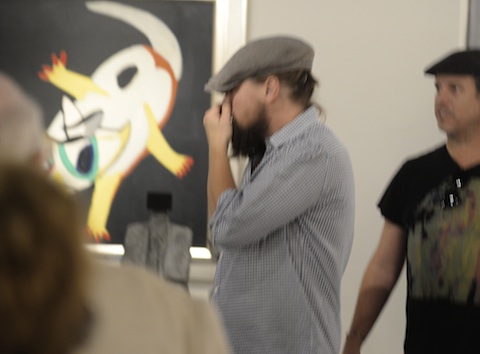 Nor was DiCaprio the only celebrity to go home full handed. Sean "P-Did" Combs shelled out a mere $95,000 for "a Tracey Emin neon."
The event was attended by oh, hordes of VIPs. Michael Douglas, Tommy Hilfiger, Tobey Maguire, Michelle Williams, Owen Wilson, and Catherine Zeta-Jones were all afoot.
But DiCaprio's beard remained the focus of discussion.
"He's smuggling art out of here in that thing," one onlooker said. Another, which rumors say was a shifty-eyed Douglas, asked DiCaprio "how many birds' nests he'd had to dismantle to make the one on his face."
D-Caps is currently shooting frontier picture The Revenant alongside Tom Hardy, in which DiCaprio plays Hugh Glass, a man "who in the 1820s set out on a path of vengeance against those who left him for dead after a bear mauling." Note that DiCaprio does not, in fact, portray the bear. (T-Hard's role is unspecified.)
The film is slated for release on Christmas Day of 2015. Noted up-and-comer Leonardo DiCapitate remains without work.