The fallout continues after Teen Mom 2 star Leah Messer appeared on co-star Kail Lowry's Coffee Convos podcast! Jenelle Eason retaliated with a one-hour-plus interview on Vince Russo's The Brand podcast, and now Leah and Jenelle's ex-husband Courtland Rogers are responding to some of the negative things Jenelle said about them in the interview.
To set the table, Jenelle said in her interview that she confronted Leah about why she is being so stand-offish, and claims Leah told her that if she wasn't then Kail would be mad at her. "Me and Leah were completely fine from the beginning — always have been fine," Jenelle said of her relationship with Leah. "And recently, I don't know, Kail put her up to doing this podcast and now Leah has completely turned on me and Briana. We have no idea why."
In addition to the Mean Girls "pick a side" accusations, Jenelle also referenced Leah's comments about not wanting her daughters around David after how he acted at the New Year's Eve special taping — including the incident in which he used a knife to pop some balloons as he was leaving the cast party taping. Jenelle said that she felt betrayed by Leah, especially since she had kept a lot of Leah's secrets over the years. To illustrate her point, Jenelle shared a story about how she used to text with Leah's ex-husband Jeremy Calvert to talk about how they were both being cheated on. I'm a little confused by the example, but I guess Jenelle is saying that she never revealed to anyone that she used to text with Jeremy, and that was keeping one of Leah's secrets? Anyways, here's the quote — which includes a reference to the infamous "deer cam" footage!
And that's another thing, [Leah's] going on [Kail's podcast] saying that my husband, at the New Year's thing, was going to stab someone. My husband got tangled in five balloons on the way out the door. He couldn't get out of them, so he started popping balloons, and he walked out. That's it. Leah wasn't even near it, no one was near it. He was by the back door, the exit door. And she just gets on the podcast saying, like, my husband's some crazy person. And I hold, like, all of Leah's secrets, and I have held them for years. Like, when she was on drugs and on pills — I was standing there talking to Jeremy every single day texting him "Are you OK dude? I'm going through the same thing. I know Leah's cheating on you, and I know she had her ex-fiance jump through the deer cam, but you know, I know I'm being cheated on too by Nathan and we're both going through the same thing," and he's like, "I don't know what to do." And I'm like, "I don't know what to do. You tell me what to do because I'm going through this too."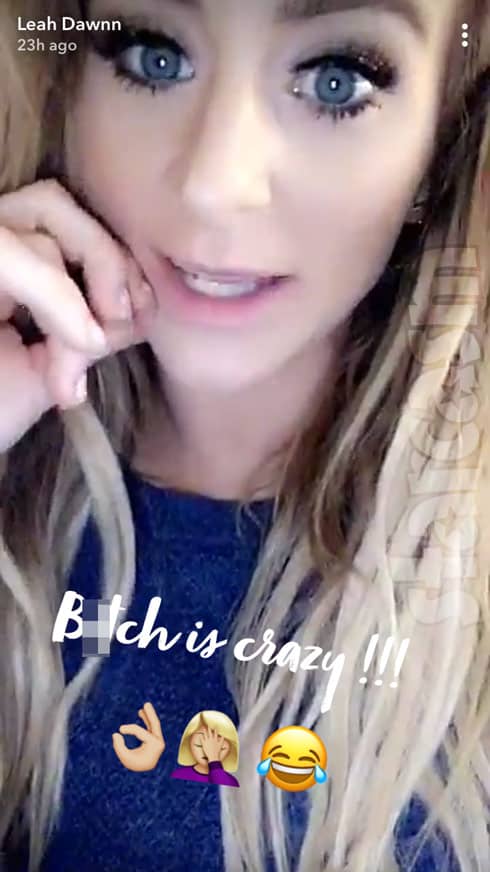 Leah's response came in the form of a series of brief videos posted on Snapchat and Instagram. "And by the way, b*tch is crazy," Leah says in the first clip. She returns with a huge laugh then begins her response:
But I don't care, I think it's funny. Crazy. Lies, lies, lies. Who can lie like that and think that it's normal? Like, I think they just convince themselves that what they want to believe is accurate. It's so insane to me. So insane. And I tried to not say anything – OK, so I'm a timid person, but if you push me too far then I'm gonna pop, you know? I think that's anyone. You can ask Jeremy about that.

Anyways, I just, yeah, I didn't want to bring too much attention, but when she said I had to take a side because Kail's gonna get mad at me. Who the f**k says that? Listen, I have our text messages. MTV filmed for two weeks — she harassed me with the craziest stuff, but that was never said. Ever. Not once. Just harassing me, calling me two-faced and all this stuff.
I tried to stay away from ALL of it. ALL of it. I was in something that I didn't want to be in. I just wanted — like, I hung out with my hairstylist how is that two-faced? I was trying to steer clear from their bullsh*t. Immature bullsh*t. That's exactly what it was. And because I didn't pick a side and hang out with this person or that person I'm two-faced or whatever, or I pick a side, or I won't stand up for myself. Go get the f**k out of here, seriously.

In Kail's podcast, guys, we were just catching up since the Reunion, since we last met. We were filming and they wanted us to kind of recap catching up the last time we saw each other, which was crazy. And that's what happened. All I said was my girl was terrified and it was really crazy. We caught up! We weren't throwing jabs at anyone in particular we were speaking facts. Facts! Crazy! OHOHOOHUUHUH!! Whatever. But that's all I'm going to say. I could care less. I'm trying not to say anything ever.

I do however feel like in that podcast there was just a bunch of random articles probably pulled up and that's what was said in that podcast. because Some of that sh*t is like so far from true. It just makes me laugh so hard. Like who can lie like that and swear by it? That's so scary. That's scary.
The drama-averse-as-of-late Leah also responded on Twitter as she explained why she felt that a response was necessary given Jenlle's comments about her:
Leah's high road rebuttal continued on Instagram with some #liveyourstandard wisdom:
Also responding to Jenelle's podcast interview was her ex-husband, Courtland Rogers. Courtland has been a hot topic of conversation this week after his invitation to Debra Danielsen's wedding caused some friction between Debra and her daughter Farrah Abraham on a recent episode of Teen Mom OG. In the episode, Farrah reveals that she was contacted by Jenelle and warned that Courtland was going to be attending Debra's wedding and that Jenelle didn't think that kids would be safe around him.
Jenelle filled in some of the blanks with Vince Russo and revealed what it was that she told Farrah about Courtland. "I said, 'Well, he will go in your house, he'll steal all the jewelry and all the expensive stuff you have to go pawn it, and then he'll go buy drugs,' I said. 'And if you date him, he'll beat you, he'll do whatever, you know.' I just told her everything about him. And I said 'I don't think it's safe for Sophia to be around someone like that.' And it was really concerning because, you know. I know the type of person he is, and I won't even say that about anyone unless I f**king meant it."
Jenelle also mentions that Courtland used to sign into her Twitter account and tweet nice things about himself as if they were coming from Jenelle. That seemed kinda silly to me, but apparently it angered Courtland enough to get a response, so I had to mention it.
Just like his irate response to Farrah, Courtland took to Twitter to defend himself against Jenelle. Here are his tweets in chronological order:
I'VE NEVER TOUCHED UR TWITTER NOR TWEETED ANYTHING ACTING LIKE U YOU DUMBASS GO WATCH ALL THOSE STICKAM&USTREAM WHERE U SAY HOW MUCH U LOVE ME,HOW I GIVE U THOSE BUTTERFLIES! HOW U FINALLY FOUND SOMEONE THAT LOVES U BLAH BLAH! 2 say ima threat to go around kids?Look in the mirror

It's Cause of u that I keep getting all this attention! it messes with ur head cause u know if it weren't 4 u I wouldn't even b known now ur mad cause 4 years later my followers are still going up?Thanks for WORRYING ABOUT ME BUT THATS MY WIFES JOB NOT MY EX WIFES!#GoHelpRake

Sorry everyone I just ran across her lil podcast and took a min to watch it since ALL SHE TALKS ABOUT IS ME!! Damn why wasn't she this worried about me when we were married ??? Hummm ?
I feel so sorry for @KailLowry @ChelseaHouska and @TM2LeahDawn and all the shit they had to deal with filming with that crazy B*tch!! All the times they'd have 2 wait for her to "come back" to set or crying bout EVERY DAMN THING I don't know how y'all do it but MAD PROPS 2 y'all!

Gonna hate on me after I did that time for "US" ALMOST 2YEARS DAY4DAY all the life all the holidayS I had to miss with my family THE FELONIES I NOW HAVE THAT should of been "OURS" I took for u for u 2 DAWG ME LIKE THIS?Smh look at u All famous for being the worlds sh*ttiest mom

Dude all I was trying to do was attend a friend of mines wedding THAT I WAS INVITED TO!! BY THAT FRIEND!! WHY DID MY EX WIFE HAVE TO GO ON NATIONAL TV AND MAKE ME LOOK EVEN WORSE THAN SHE ALREADYYYYYYY HAS IN THESE PAST 6 YEARS?? Why does SHE ALWAYS GET HER 2 cents in but I DONT

I NEVER mention her UNLESS SHE MENTIONS ME WHICH SHE INDEED DID VIA PODCAST #Facts

Thank god people HAVE WITNESSED & realized that I have changed YES i was in an active addiction SIX YEARS AGO YES she introduced me 2 it!It DOESN'T mean thats how I still am! I have COMPLETELY TURNED MY LIFE AROUND AND FINALLY HAVE MY SH*T TOGETHER!! the ones that MATTER KNO THAT

All the secrets I KEPT FOR HER BECAUSE I HAVE A HEART AND WOULD NEVER PUT THAT PERSONAL OF BUISNESS OUT THERE THATS NOT WHAT U DO WHEN SOMEONES DOWN! WHO CARES WHAT EVERY1 THINKS OR THAT IM "TRYING TO GET ATTENTION" I could care less I already got all the attention I need #LetMeB
OK – I think that catches us all up for now! (I need tim to recover from this post — typing both "deer cam" and "Stickam" is giving me SERIOUS Teen Mom blogger flashback! I'm just glad I didn't type "Sulia." Oh no…)