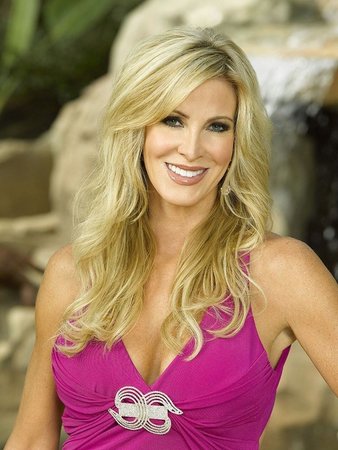 A Real Housewives of Orange County veteran is returning to the show this season. Lauri Peterson was one of the original five 'wives on the show, and quit shortly into season three, where she was replaced by  Tamra Barney. Lauri was brought on the show as a foil to the other affluent, married women who were living "behind the gates" in ritzy Coto de Caza; Lauri had once lived there as well, but was now living in a townhouse "outside the gates" with her two children, newly divorced. We watched her through countless trials and tribulations: her adult daughter returning home to the already crowded townhouse, having to stay in a less-than-glamorous hotel on a work trip while Vicki stayed in a fancier one because Vicki could afford it, trying to find love, and most notably, her struggle to deal with her troubled teenage son who was dealing substance abuse issues. In between these issues, she also managed to date serial-OC-boyfriend Slade Smiley for a few weeks while he was on a break with fellow housewife, Jo de la Rosa.

Everything changed for Lauri on season two, when she revealed that she had a new man in her life: a wealthy, stable businessman named George Peterson. With George's brood of four kids and Lauri's three kids, they were like a regular Brady Bunch. Everything was coming up roses for Lauri: he surprised her with new cars, lavish vacations, and a marriage proposal. Her romantic wedding was even featured on the show. Unfortunately, Lauri's son, Josh, was still extremely troubled, and eventually Lauri told viewers she was leaving the show to focus on her son.
Since leaving the show Lauri has had her share of personal troubles, which mainly revolve around her husband's ex-wife Gina. Lauri was unsure if her son would be an appropriate guest at her wedding, as he had recently moved in with George's ex-wife, which Lauri viewed as a betrayal. (Evidently, Josh had befriended George's son, who still lived with his mother.)Gina also claimed that George and Lauri stole her daughter, Bria, from her and refused to tell her where she was. She alleged on Facebook that her then-fourteen-year-old daughter had been missing for months: "74 days and BRIA PETERSON is Still Missing! Pay offs allow abusive parents to fist [SIC] Steal children and then continue with Physical Abuse?"
Gina, who once dated Dennis Rodman, alleged that George sought full custody of their four youngest children because he didn't want to pay child support. She also alleged that he was physically abusive to Bria, and posted an email she supposedly received from Bria on Facebook back in 2010 that describes the alleged abuse. For the record, there is no evidence of abuse and no charges were ever brought against George. Ashley Zarlin, Lauri's oldest daughter, tweeted, "Bria is not missing…she is being kept away from her mother and her mothers [SIC] destructive behavior. Bria is loved by all of us and It is sad that her mother is so mentally unstable! She is actually allowed to visit her kids with a dr there to monitor the visitation but She chose to never to [SIC] that. She has been stalking and harassing us for years and we all have restraining orders against her for our safety."
In the video Gina Peterson talks to her daughter, Bria, and promises to get her back. She says that if it weren't for her kids, George would be "history without a mystery":
Gina Peterson has more videos to the public on her YouTube channel.
On the upcoming season of Real Housewives of Orange County, Lauri returns, and it appears some of her former costars aren't glad to see her. Lauri hardly had any friction with any of the housewives prior to this, except for an awkward talk with Jo about her dating Slade, and the same awkward talk she had with Gretchen about Slade. On season four, Lauri had lunch with Tamra, who regaled her with stories of the newbie, Gretchen, and how she wasn't fitting in. She and fellow OC veteran Jeana Keough appeared on Watch What Happens: Live and Lauri didn't seem to have any beef with the other ladies. However, this season looks like it's shaping up to be different. Tamra Barney told Housewives Hoedown: "Lauri came back to stir up some shit, she really did. I think Lauri came back to try to get her job back. So she definitely stirred up a lot of stuff that even me, I probably wouldn't have gone there. So it will be interesting to see a different Lauri because before we have always in the past have this Lauri that was very conservative, this is like shit talking Lauri."
In the preview for season 8, Lauri tells Gretchen, "I walked in and she was in bed with another woman and they were both in bed with another man." Although we don't know who she's talking about for sure, my guess is it's Tamra. It looks like it's going to be a great season:
 Real Housewives of Orange County premieres April 1st at 8/7c on Bravo.