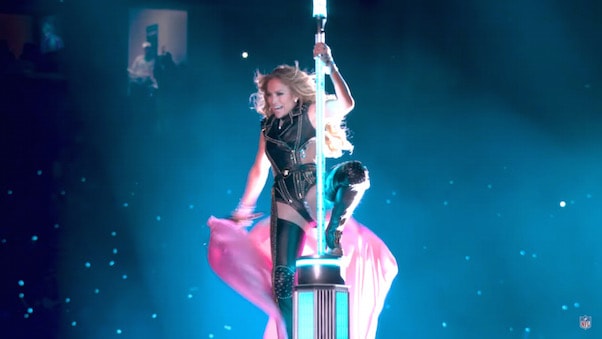 CELEBITCHY – So J-Lo and Shakira put on an energetic and really fun Super Bowl halftime show that still somehow managed to ruffle a ton of feathers thanks to people still uncomfortable with grinding and pole dancing. (Surprisingly, J-Lo's political undertones seemed to sneak right by almost everyone)
VOX – There was also the usual spate of celebrity- and pop culture reference-laden Super Bowl commercials, most of which were dull as hell. I actually really liked the HSN satire that Avocados From Mexico put together, because it's always fun to see a mirror held up to an audience without the audience's awareness. Facebook's was garbage. What did you, the viewers at home, think?
DLISTED – On a related note, Jason Momoa's pre-Super Bowl Super Bowl commercial was even better than his Super Bowl commercial, which had people shrieking and covering their eyes in the living room where I watched
THE BLAST – Back to the spectacle itself: Demi Lovato is getting rave reviews for both her rendition of the Star Spangled Banner and the all-white outfit she wore to perform it
THE BLEMISH – Oh right, a football game happened during all that as well. Kansas City won its first NFL championship in 50 years, but the wrong guy won the game's MVP trophy
JEZEBEL – Oh, and it was *also* Groundhog Day yesterday. (I forgot until after seeing Jeep's commercial with Bill Murray.) Not-Punxsutawney-Phil did not see its shadow for the fifth year in a row, meaning winter is over and it's okay to complain about how it's so hot that you can't wait for autumn to begin
REALITY TEA – Meghan Edmonds does not need to express every thought
THE ASHLEY'S REALITY ROUNDUP – "Bringing Up Bates Star Carlin Bates Stewart Welcomes First Child with Husband Evan; Best Friend Joy Duggar Forsyth Responds"
LAINEY GOSSIP – Worth the click for this sentence alone: "If January is a graveyard for unwanted movies, then Super Bowl weekend is an abandoned house on a dead-end road with a mysterious locked room in the basement and a garage full of nothing but rope and cyanide."
GO FUG YOURSELF – "Zendaya Once Again Looks Good In Something Confusing"
(Photo credit: J-Lo and Shakira via Fox / NFL)
John Sharp is Starcasm's chief editorial correspondent-at-large. Tips: E-mail john@starcasm.net or Twitter @john_starcasm.