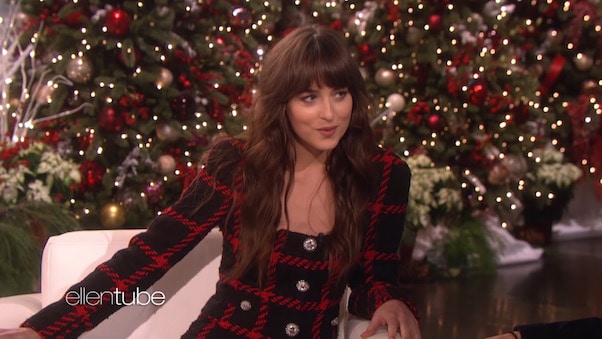 CELEBITCHY – When I first saw Dakota Johnson's Ellen interview trending the other day I didn't give it much thought. And after watching the interview itself I really didn't understand the big deal (other than it's always nice when talk show interviews get weird). But after reading about the rather extensive history Ellen and Dakota share and the recent general backlash against Ellen, I must admit I'm fascinated by this five-minute mini-drama
THE BLAST – Lizzo dropped another series of nude photos on Instagram and appears to be getting mixed reactions, which seems like part of her point?
REALITY TEA – I can only assume that by picking a RHONJ star he'd really "want to work with," Captain Lee Rosbach of Below Deck really means that a crossover is already in the works
THE ASHLEY'S REALITY ROUNDUP – "Teen Mom 2 Season 9B Episode 29 Recap: Divorce Court & a "Dear John" Text"
JEZEBEL – If you're into fun-ridiculous holiday movies, here's a review of The Knight Before Christmas to make your heart sing with joy. "The premise is pretty simple, really: A 14th century knight named Cole is zapped to 2019 Ohio so that he can fulfill the special quest that will make him a "true" knight, which in this case is not being roped into yet another ill-advised edition of the Crusades but rather something involving his heart"
GO FUG YOURSELF – Don't be dissuaded by the first of these images; John Boyega does indeed have a strong winter coat game
DLISTED – Even Taylor Swift, one of the many stars of the upcoming peculiarity that is Cats, acknowledges that the whole thing — story, movie, adaptation — is "weirdness"
VOX – "The silent 'sixth' sense: Propioception is the body's mysterious ability to locate our limbs, even in darkness. We're just beginning to understand it"
LAINEY GOSSIP – The speculation about why Angelina Jolie switched talent agencies is plenty juicy whether you're into gossip about Jolie herself or are interested in some insider-y details about how deals like these usually go down and how agencies can stack the cast of a given project
THE BLEMISH – "Taiwanese-Canadian Actor Godfrey Gao, 35, Dies While Filming The Titan Games-Type Reality Show"
(Photo credit: Dakota Johnson's Ellen interview via Ellen)
John Sharp is Starcasm's chief editorial correspondent-at-large. Tips: E-mail john@starcasm.net or Twitter @john_starcasm.