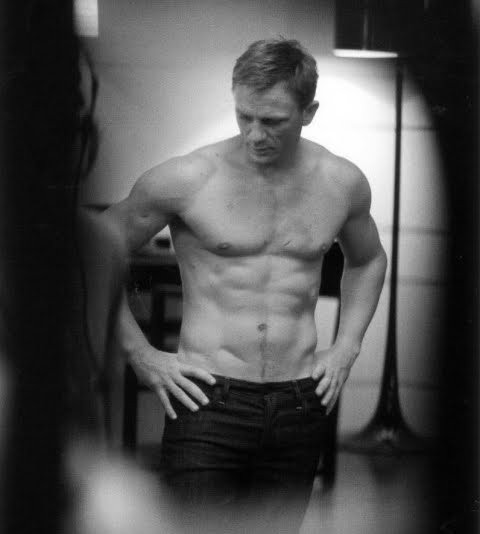 Skyfall starring 44-year-old Daniel Craig as James Bond has fallen to Twilight's Breaking Dawn at the box office this week, but it fell nowhere near the level the previous Bond film Quantum of Solace it's second week. Critics and fans are raving about the film, and it's already the highest grossing domestic Bond film ever.
The man at the heart of it, Daniel Craig, who is probably the best bond since Sean Connery, may have lost out on People magazine's Sexiest Man Alive title, but there's no doubt that his wife Rachel Weisc is a lucky girl.
The notoriously private British actor gave a playful and revealing interview to Rolling Stone this month where he talked about how he's nothing like the tough guy he plays.
"I know I play a tough guy, but that's genuinely, genuinely not me. I've always been very good at avoiding fights, having worke din pubs and seen pools of blood everywhere. Actually, the only thing to ever get me in trouble would besomeone looking at my girl the wrong way. That always got me going. I still get jealous now., but I don't get jealous the way I used to. I was in a bar in France once and this guy pinched my girl's ass, and I flew across the room, kind of lifted the guy up. These days I'm much more happy to have a quiet word with somebody."
What does Daniel Craig drink?

"I drink wine. I don't drink spirits. Well, I do, occasionally, so that's a lie. But I try not to, because they fuck with me. Especially scotch. It sends me crazy."
He may not drink a lot of Scotch and other liquors, but he does occasionally go on a tequila bender with the boys. He calls his most self-destructive behavior:
"Probably partying and drinking. I go out with my friends and hit the tequila or whatever, and let off steam. I kind of make time for that way from my wife."
Does he self-Google? (Hi Daniel!)
"I don't – I mean, I really try not to. I really, truly try. But then I can't help myself and I disappear up my own a$$, and that starts a whole cycle where I've gotta look. I mean, I couldn't probably put a lock on the computer, but, yeah, anyway, it's a sickness. But that's it. Except for maybe I'll look up some p0rn occasionally. Hey, I'm only human."