Dalis Connell is getting some serious support from her boyfriend of 15 months, Teen Mom star Ryan Edwards. Bentley's daddy was by his girlfriend's side this weekend when she flew to California to be with her mother, who was recently diagnosed with stage III cancer. Though the couple knew the trip would be an emotional one, things took a turn for the worse before they even arrived.
Last Wednesday, an excited Dalis tweeted, "Just got the most amazing news ever! Get to fly out to Cali and see my mom in the hospital! Going to surprise her 🙂 #staystrongmomma." Unfortunately, just one day later, Dalis received some heart-wrenching information about her mother. "They gave my mom 10 months to live. life is so short.. appreciate the people you love! don't take them for granted," she revealed.
That Friday, the two boarded a plane to be by Dalis' mother's side. "Its 4am and headed to the airport #exhausted," Ryan tweeted, adding, "California bound with @DalisPaige." The couple will remain in California until tomorrow afternoon.
Earlier this afternoon, Dalis spoke with Starcasm about her mother's bleak prognosis. "The nurse told me wrong about how long she has," Dalis tells us. "The doctor said 3 months.. but the doctor said she has a 10% chance of living longer than that, so that's what we are holding onto."
Dalis' mother was thrilled by the visit, and as one might expect, her daughter's presence has had a positive effect. "The doctor said since we have gotten out here there has been a little improvement, so it's amazing to know we are lifting her spirits :)"
As for how Dalis has been holding up, she tells us, "Everything is so emotionally draining and heartbreaking, but im trying to stay strong, and Ryan has been more than amazing with his support and making my mom laugh. It's such an amazing experience."
During their visit, Dalis was visited by a few of her old friends and also went to the beach with Ryan, where they took a few photos. "Oh how I've missed California … #sunsets #nofilter #love," Dalis tweeted over the weekend. Ryan told fans, "Wish I could ride my motorcycle down PCH.. perfect road!! #cali."
We wish Dalis and her family all the best during these tough times and applaud her ability to remain strong and positive throughout this difficult ordeal. And kudos to Ryan for being there by Dalis' side and being a source of strength for her!
You can see more of Dalis Connell and Ryan Edwards on tomorrow night's Teen Mom Unseen Moments special at 10/9c on MTV.
UPDATE – Dalis posted this montage of photos of her, her mom, and Ryan together at the hospital as well as another update: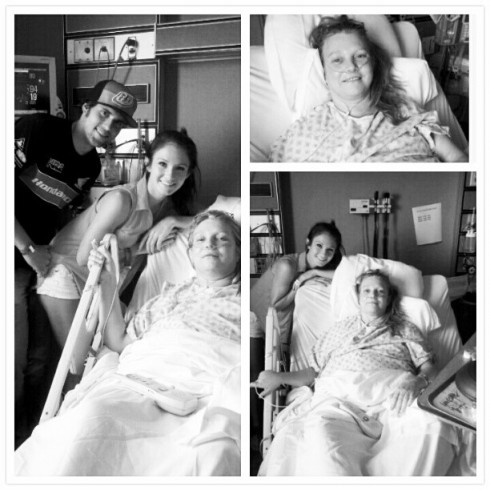 The doctors said that since we have been here that they have seen a tiny bit of improvement. She even looks better since when we first got here. This is the first time she met Ryan and she absolutely adores him. He keeps her laughing. It's been such a humbling experience and im so thankful I was able to come see her and that all my teachers were understanding. It's been so life changing and my hope will never die. I love you mom. Thank you for staying strong for me.
She then shared this photo bringing some bedside comfort in the form of normalcy: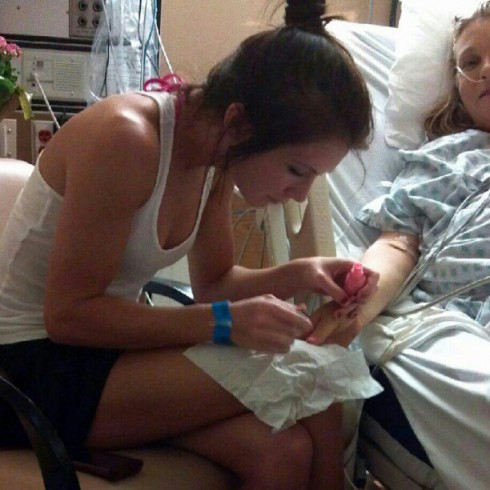 "Painting mommas nails! She's gotta stay looking good haha :)"