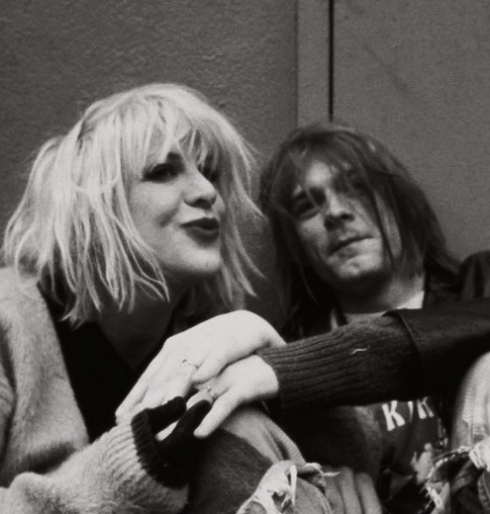 Courtney Love's dad Hank Harrison has expressed suspicions before that his daughter was somehow involved in the death of her husband Kurt Cobain, and now he's voicing these opinions again. "No doubt she was capable," Harrison told Radar Online. "I can't prove she pulled the trigger, but I can prove her involvement to a high degree of certainty."
Harrison is working on a book called Love Kills: The Assassination of Kurt Cobain, and tells Radar Online that he believes there are major clues in a note that was found in Kurt Cobain's wallet when he died of a gunshot wound that is officially considered self-inflicted "Do you Kurt Cobain take Courtney Michelle Love to be your lawful shredded wife," the note begins, "even when she's a b**ch with zits and siphoning all (your) money for doping and wh0ring…" The note was just released by the Seattle Police Department, 20 years after Kurt died.
The handwriting on the note matches the handwriting on Kurt's suicide note, but the viewpoints on his wife Courtney differ considerably. In his suicide note Kurt says, "I have a goddess of a wife who sweats ambition and empathy and a daughter who reminds me too much of what i used to be, full of love and joy, kissing every person she meets because everyone is good and will do her no harm. And that terrifies me to the point to where I can barely function. I can't stand the thought of Frances becoming the miserable, self-destructive, death rocker that I've become."
"If you read the true meaning of this small note, and place it in conjunction with the rest of the evidence, anyone with even half a wit will see that something dire and awful took place," Hank said of the new note.
Hank also appeared on 1998 Nick Broomfield documentary called Kurt & Courtney (which you can watch on Netflix.) "Even if he really did try to kill himself, it was a fake suicide," Hank Harrison said in the film. "He was just trying to get attention. Somebody used that." Hank also claimed that Courtney didn't love Kurt anymore and was cheating on Kurt with other famous rockers, including Billy Corgan.
At a second interview, Hank commented on how nice a car the BBC (who had initially backed the film,) had gotten for Nick Broomfield, and took offense that he had not seen any money for participating in it. Nick asked him about his relationship with Courtney, and why he had gotten rottweilers, and he replied he had gotten that type of dog to chase her off. He said that when she was 16 she broke every rule in his home, including not doing heroin or prostituting herself. When asked what he was trying to say about his daughter, if he was accusing her of murder, he said that's exactly what he was doing. Hank elaborated about his motives in speaking to the media, "I'm not telling her I love her. I've got her number, hanging. I've got her figured out, she can't get away, I've got her nailed. That's what I'm trying to say. It's still tough love, and I'm still the father. Period. Cop out to me, maybe we can work something out. But keep on bad-mouthin me, I'll keep kicking your ass. I told her that from the beginning. 'I'll keep kicking your ass. Don't take me on, I'll kick your ass.'" After that diatribe it appears that Hank has some sort of vendetta against his daughter.
Another man appeared on this documentary, called El Duce, who claims to have been offered $50k by Courtney to "wack" Kurt. He also claimed that he knew who killed Kurt, but he would let the "FBI catch him." Two days after that interview El Duce (real name Eldon Wayne Hoke) was killed by a train. El Duce had previously told his story about being offered money by Courtney to media outlets like Jerry Springer and The National Enquirer.
A new film called Soaked in Bleach will also explore some of the conspiracy theories surrounding Kurt's death.