Before the 90 Days super-couple Jesse Meester and Darcey Silva continue to churn out the social media drama, with the latest #twinflame inferno coming after Darcey appeared on Jenny McCarthy's Sirius radio show and had less than 100% positive things to say about her Danish beau. Of course, Jesse had to passive aggressively respond — at length!
Before we get to the drama, I will jump right ahead to the important question. Jenny asked Darcey if the two are still in a relationship, and Darcey said flatly "We're still together." Of course, that was at the time of the interview. That relationship status might have changed after Jesse listened to what Darcey said — but more on that in a minute.
Here is the full video of Darcey's appearance on The Jenny McCarthy Show:
First, I want to say that it is quite clear in the interview that Jenny watches Before the 90 Days and is a big fan, which means I now have a new entry in my "Top 5 People I want To Sip Wine And Watch Before The 90 Days With" list. She quickly gets to the issues between the two and asks Darcey if she has any big regrets.
Darcey says that she does wish she had spoken up for herself more when Jesse criticized her for drinking. She wants to make it clear that she is not an alcoholic despite the way she says Jesse has tried to portray her on social media and outside the show.
"I feel like his controlling side is chipping away at you where you're not going to recognize who you are," Jenny says of Jesse.
Darcey admits that she does consider Jesse to be toxic at times, but she also admits that she is sure Jesse would say the same about her.
Jenny then went right to the next big question: "Do you think you'll get married?"
"I'm hoping," says Darcey. "We talk about it a lot…He tells me all the time he wants to…he always said towards the end of the year he would want to pop the question, so I know he's coming for the holiday, so we'll see what happens." (Jesse plans to be in New York City later this month.)
Jenny continues: "What's the one thing that you can say to me that you hope Jesse improves on?"
Darcey goes back to the "controlling" issue with her response. "Sometimes I feel like just having my voice heard a little bit more. And, just seeing my side of the story as opposed to, like, his way always being the right way."
"Do you think he's addicted to the fame?" Jenny asks.
"I think he's getting it into his head a little bit, but I can't say it to him," Darcey says and laughs a little. "Well, he's probably going to hear this now."
"He's in Amsterdam, he's not going to hear nothing," Jenny erroneously replies. "I think it's getting to his head."
Darcey agrees. "I think so, because I feel like he gets mad when I'm posting stuff for me…because I've got my own thing going on too, and I get, like, a text, like, right after: 'Why'd you post that?!" or 'Why you copycattin' me?' I said 'Copycatting you?!'"
"He's almost competitive," Jenny suggests.
"Yeah, I don't like that," Darcey says. "I get that sense a lot of times. So I just try not to bring it up. I just try to shut it down with the comments back. I'm like, 'Do you honey. I'm not trying to copy you.' It is what it is."
Jenny concludes by wishing Darcey the best and stating that she hopes Jesse stops being so controlling and "slows down on that shaming thing and starts kind of looking at himself to fix."
As you would have guessed, numerous Meesterlings were posting all over Jesse's social media accounts making him aware of Darey's appearance on The Jenny McCarthy Show as well as some of the not-so-flattering things she had to say about him. That inspired Jesse to share a series of not-so-subtlely passive aggressive comments seemingly directed at his twin flame Darcey. (All of which were accompanied by Jessexy modeling photos of course.)
Here are his pictures, with his captions under each:
Be aware that when you help someone, it can backfire on you. And then they try to take advantage of you. To make you the bad one. You remain victor and not victim. You are the master of your life. Nobody can control or take that from you.
#onelove #conciousness #emotion #selfawareness #body #mind #psychology
Jesse added more in the comments section of this photo, but unfortunately he later deleted what he wrote and I couldn't find a record of his full statements. Here's what I have:
COMMENTER: I think you're very mature & sincere. I wish you the best & a partner that compliments you & realized what she has! Darcey seems very jealous of you please be careful…The woman is getting creepy & im afraid for Jesse. That Jenny MacArthur interview last week showed how jealous & undermining she is!

JESSE: I agree and it's just sad.. like how can you even take yourself seriously when you keep lying, even on a radio show, throwing your own man under the bus "to clear your street" and then turn to social media drunk acting like a fool the next day…

COMMENTER: @j********* how do you know who he's talking about lol

JESSE: this was not just about the interview. I think you missed what happened which is a good thing. This is one of the many times and therefore @j********* suggests to block her. But I feel a strong dissonance in what I can say and do because I don't…
When you distant yourself from a toxic person, they will try to control how others see you. The lies and misinformation will feel unfair, but stay above it. You know better, just like the real people around you will. Cut the poisonous and fake people off, with no hesitation and no explanation. Life's short. Don't waste any more time on fakers and backstabbers.
#deeptalk #thoughts #realtalk #lovemyfans #icaretoomuch #thanksforthelove #suitsupply #body #mind #psychology
Picture by @pd_fotografie
People have to want to help themselves first, and that means being willing to see and own up to parts of themselves that are not serving them. Not everyone is ready for this introspection and remains in denial. It's on them to make that choice, or not. It's not your responsibility to fix every single person, regardless of your profession.
#clarity #strength #honor #love #suitsupply #dapperday2017 #buttoned #respectthyself #body #mind #psychology
Shot by: @peterdorr2
And just in case the photos and captions weren't enough, Jesse seemed to continue his passive aggressive onslaught with a new #askjesse Youtube video in which he offers advice on "How To Deal With A Damaged Partner." Take it away Jesse…
However, for you followers of the #twinflame, there is still hope! Earlier today Darcey countered Jesse' passive aggressive posts with a subgram of her own in the form of an intimate nippleriffic boudoir shot of #Darsse in bed together:
Though the photo had no caption, Darcey did respond in the comments section with a love-and-light holiday message to her supporters:
Thank you all for all the love and beautiful support my heart goes out to you all during this beautiful holiday season. Happy holidays to you all! May everyone be blessed! ❤️🙏🎄👼
We will let you know if there are any fireworks when Jesse returns to the Big Apple later this week. (Something tells me that the TLC cameras are rolling on all this drama and we will be seeing it on screen soon.)
UPDATE – Darcey reportedly* took to Instagram in hopes of keeping the #twinflames burning bright with a lengthy ode to Jesse that is, well, a bit much I think: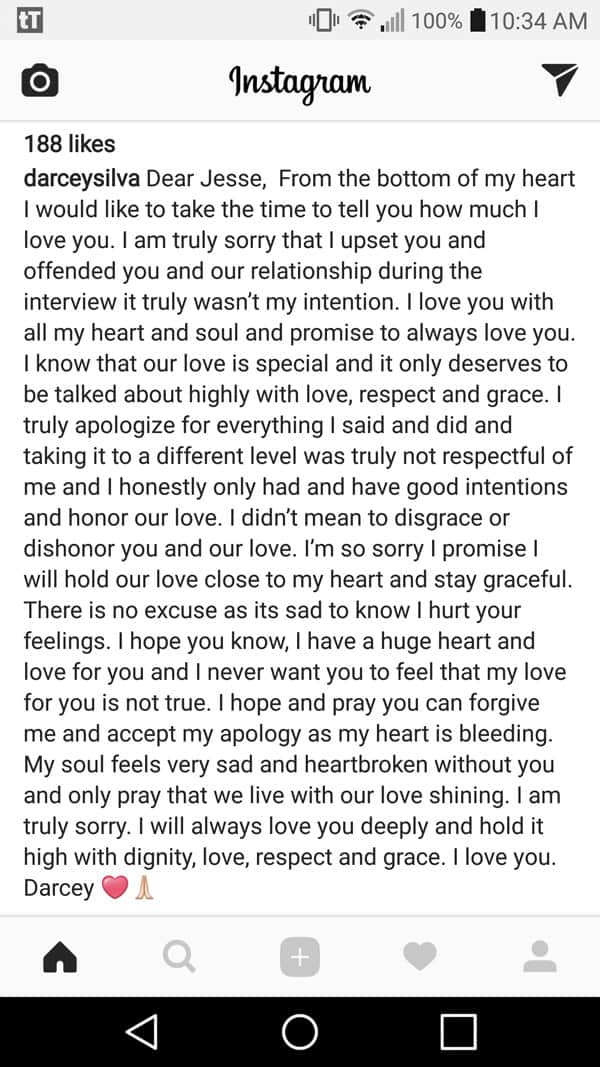 * I say "reportedly" because the screen cap above was shared in fan groups but it appears as though Darcey deleted it before I could find it myself. EVERYTHING about the apology screams Darcey, so I have very little doubt that it is indeed from her. (Something tells me that Jenny McCarthy may be shaking her damn head right now.)