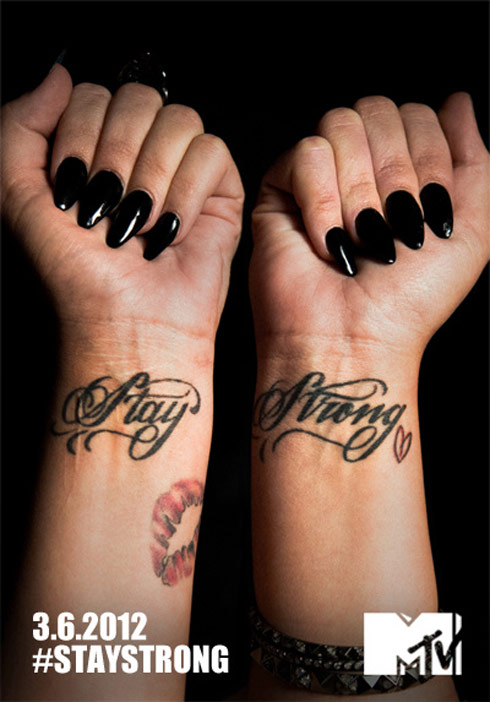 MTV has just announced it will be featuring Demi Lovato in a one-hour special titled "Demi Lovato: Stay Strong" documenting her very public road to recovery after breaking down and going into rehab for a second time last year.
Demi shared the promotional poster above on Twitter yesterday along with the tweet, "Lovatics-I wanted to tell you FIRST about a special I worked on with @MTV. It premieres March 6th at 10pm!! #staystrong"
MTV then published this preview clip along with a press release:
NEW YORK, NY (February 22, 2012) – After a year of intense personal struggles and public attention, singer-songwriter and actress Demi Lovato allowed MTV News' cameras to follow her most private moments as she continues her treatment in the public eye.
Premiering on Tuesday, March 6th at 10PM ET/PT on MTV, "Demi Lovato: Stay Strong" reveals an intimate portrait of a resilient young woman confronting her issues, heading back on the road to face her fears, and endeavoring to finish what she started in 2010 on tour. With the love and support of her family, friends and fans, audiences will – for the first-time – go deep into Demi's story, hearing her first-hand account of the breakdown that led her to rehab, watching her navigate life in recovery and finding out how she's coped with exposing her deepest secrets to the world.
"I wanted to share my story but I knew it had to be honest, it had to be real," said Demi Lovato. "I have daily challenges but so do many kids who are struggling to feel comfortable in their own skin. If opening up and sharing my story inspires even one person to stay strong or to get the help they need, I've succeeded."
The one-hour documentary begins in the Fall of 2011 as Demi prepares to face life post-rehab and embark on her first tour in recovery. Fans will travel with her as she returns home to Dallas, Texas for her first Thanksgiving with her extended family and begins her Fall tour, performing deeply personal material in front of sold-out crowds from her new album. Continuing to be In Treatment, viewers will also see Demi go back for the first time to the facility she entered in October 2010 as she speaks candidly to her recovering peers about her experiences, and thanks the counselors and staff who helped her.
"Demi Lovato: Stay Strong" will air internationally on MTV channels around the world starting on March 6, 2012. For more information on the special head to StayStrong.MTV.com.