It is an AMAZING time for HBO! The premium cable network has recently made headlines with their documentaries about Robert Durst, Scientology, and Frank Sinatra, and they just recently announced their stand-alone streaming service HBO Now is live, which means you can subscribe to HBO without having a cable TV subscription as long as you have broadband internet. (Click the link for a free trial.) The Season 5 premiere of their epic series Game of Thrones is this Sunday night (along with the return of their successful comedies Veep and Silicon Valley), and today the network released the first teaser trailer for the second season of their HUGELY successful series True Detective!
The teaser is almost identical in mood — both visually and sonically — to the first season, but that's where the similarities seem to end as Vince Vaughan and Colin Farrell's Frank Semyon and Ray Velcoro attempt to fill the shoes of Matthew McConaughey and Woody Harrelson's Rustin Cohle and Martin Hart. The clip has no dialogue, but instead relies on an atmospheric song that has had everyone asking the question, "Who is that singing the song on the True Detective Season 2 trailer?"
HBO has been hush-hush about it, telling those inquiring only that it is an original composition recorded just for the show. We did a little bit of True Detective work on our own, however, and we discovered not only who performs the song, but who wrote it and who produced it!
The song is produced by T Bone Burnett, which is no great surprise given that he was in charge of the music for the first season of True Detective. The song was co-written by none other than country music superstar Roseanne Cash! The song begins with, "Change will come to those who have no fear" and concludes (at least in the trailer) by mentioning being "locked inside a holy war" and then repeating that love is "the only thing worth fighting for."
Roseanne tweeted (and then deleted) her excitement over the song being used in the trailer:
Also tweeting (and also deleting?!?) her excitement was the singer of the song, Lera Lynn:
So there's your answer! If singers were stocks, I'm guessing you would want to buy up a whole lot of Lera Lynn right now! 🙂
OK, back to the show. Here are the details about the True Detective Season 2 plot and the characters released by HBO today as well as some official cast photos:
A bizarre murder brings together three law-enforcement officers and a career criminal, each of whom must navigate a web of conspiracy and betrayal in the scorched landscapes of California. Colin Farrell is Ray Velcoro, a compromised detective in the all-industrial City of Vinci, LA County. Vince Vaughn plays Frank Semyon, a criminal and entrepreneur in danger of losing his life's work, while his wife and closest ally (Kelly Reilly), struggles with his choices and her own. Rachel McAdams is Ani Bezzerides, a Ventura County Sheriff's detective often at odds with the system she serves, while Taylor Kitsch plays Paul Woodrugh, a war veteran and motorcycle cop for the California Highway Patrol who discovers a crime scene which triggers an investigation involving three law enforcement groups, multiple criminal collusions, and billions of dollars.

True Detective is written and created by Nic Pizzolatto. The first two of this season's eight episodes will be directed by Justin Lin.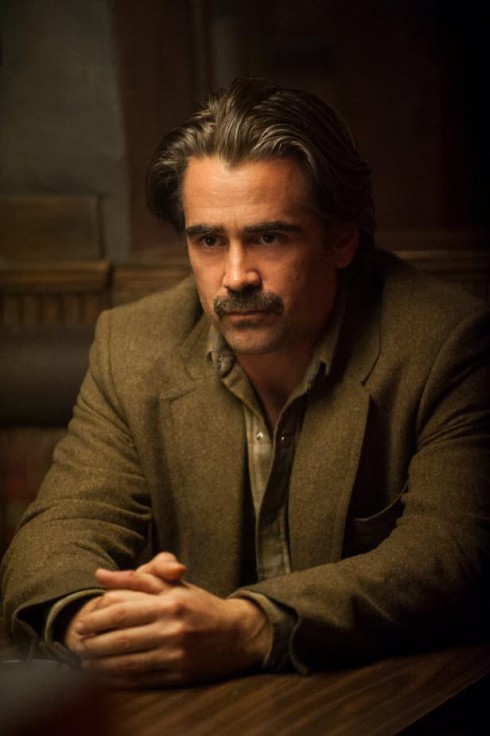 Colin Farrell will play compromised Vinci (above), California detective Ray Velcoro.
Rachel McAdams will play Ventura County detective Ani Bezzerides, who often butts heads with the system.
Taylor Kitsch will play CHiP motorcycle cop Paul Woodrugh, who discovers the crime scene that is the Big Bang for everything that follows.
Vince Vaughn will play Frank Semyon, a criminaltrepreneur and mob kingpin at risk of losing everything.
Frank's wife Jordan Semyon (played by Kelly Reilly) tries to remain by his side, but struggles with some of his decisions.
True Detective Season 2 premieres Sunday, June 21 on HBO.