We got to watch Kim Zolciak's assistant Sweetie Hughes help Kim's now-husband Kroy Beirmann arrange a surprise 33rd birthday party for Kim, but now things apparently aren't so sugary between the two of them. Last season of Real Housewives of Atlanta there was a controversy when Kim was seen on camera yelling at Sweetie, causing some of her castmates and RHOA fans to think Kim was being abusive towards Sweetie.
Now, Sweetie Hughes apparently been fired, at least according to Kim's daughter Brielle on her Formspring account.
When someone asked if Sweetie was living with the family in Kim's new dream house, Brielle responded: "umm shes firedd." When asked if Sweetie did anything, she Brielle got more cagey "I dont really wanna talk about it and yeah her whole familys been close for 13 years." When pressed again, Brielle said it was a "long storyy,"and that the Zolciak-Biermann family no longer talks to Sweetie.
Back in February Sweetie told Life & Style that Nene had ruined her life after she made accusations that Kim was racist and abusive towards her. This all inspired radio host Rickey Smiley to launch a "Free Sweetie" campaign. Sweetie told Life & Style this February "Kim's a great friend to me. NeNe's traumatizing my life. She's bringing hell to it."
Here's a screencap of the questions, via s2smagazine.com: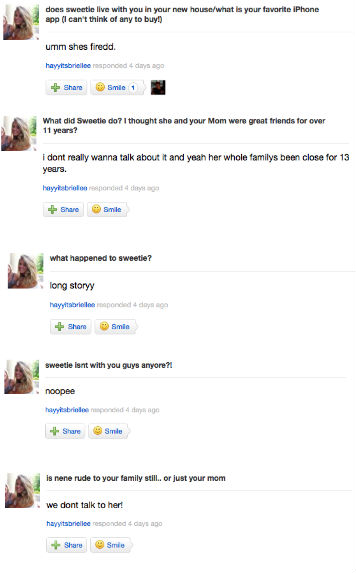 UPDATE: Kim recently explained Sweetie's termination on her Bravo Blog, aptly titled "Parting is Such Sweetie Sorrow." Kim says the decision to fire Sweetie was a good one, because now they can just be friends and not have to worry about a working relationship.
"Sweetie began to become a bit lazy, she didn't seem like herself anymore, and it worried me. The last thing I want is for our relationship to be ruined because of my role as her boss. Because of those feelings, I had to let Sweetie go.

That decision was best for the both of us, because now she's just my girlfriend. No obligations, not stress. I'd much rather let Sweetie go and keep her as a friend, than keep her and jeopardize one of the most important relationships I have! Assistants come and go but you can't buy loyalty."
So sad to see Sweetie go! Guess this means she won't be appearing on Kim's new spin-off show. Kim just married her baby Kroy Jr.'s father Kroy Beirmann on 11-11-11 in a lavish ceremony that will be a part of her new show Don't be Tardy for The Wedding, debuting April 26.. She wore this dress.
PHOTO: Kim Zolciak's Twitter account.
Be our BFFs on Twitter, Facebook!, and Google +