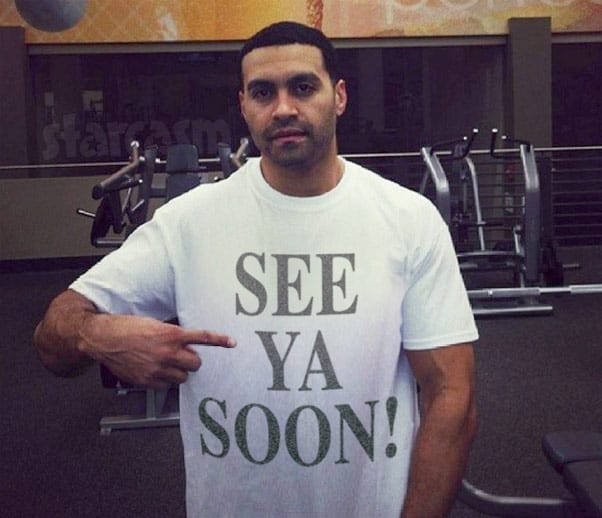 The Real Housewives of Atlanta star Apollo Nida has been in federal prison for four-and-a-half years of his eight-year sentence after pleading guilty to bank fraud in 2014. His eight-year sentence was on the low end of sentencing estimates, and it has just been reduced even further!
According to federal court documents, Apollo's sentence was dropped more than 12 percent after a judge signed off on lowering it from 96 months to 84 months earlier today. Here is the information from the filing, first shared by The Blast:
ORDER REDUCING SENTENCE —
JUDGMENT AND COMMITMENT

Defendant Apollo E. Nida was sentenced on July 8, 2014, to 96 months of imprisonment on one count of conspiracy to commit bank fraud [Doc. No. 34]. The defendant's sentence is hereby reduced to 84 months of imprisonment with credit to be given by the Bureau of Prisons for all time served. All other terms of the sentence imposed by this court on July 8, 2014, shall remain unaffected by this order.
It is ORDERED that the Clerk serve a copy of this judgment and order upon defense counsel, the United States Attorney, the United States Marshal, and the Bureau of Prisons.

SO ORDERED this 26th day of March, 2019.

CHARLES A. PANNELL, JR.
United States District Judge
Being an amateur Matlock, my immediate thoughts were that perhaps Apollo had shaved some time off his sentence by cooperating with federal investigators on other cases. His plea agreement did allow for a sentence reduction if Apollo provided "substantial assistance" to investigators:
If the cooperation is completed after sentencing and the Government determines that such cooperation qualifies as "substantial assistance" pursuant to Rule 35(b) of the Federal Rules of Criminal Procedure, the Government will file a motion for reduction of sentence.
However, it seems that the sentence reduction may have a much more likely explanation. According to Apollologist Tamara Tattles, the reduction is more than likely due to Phaedra's ex-husband landing a spot in the Residential Drug Abuse Program. In an article from July of 2014, Tamara explained the program and revealed that qualifying inmates "can earn up to 18 months off your sentence. PLUS! You get to do your last six months in a half-way house."
Tamara later reported that she had an eye witness who says Apollo was drunk when he finally turned himself late at the prison, which is a common ploy for inmates hoping to get a place in the RDAP.
When Apollo was initially sentenced, his attorney stated that there was the possibility of Apollo getting out more than 12 months early for good behavior, and he added that if that were the case, Apollo would be released to a halfway house.
According to The Blast, Apollo is now scheduled to be released from prison in August of 2020.
Despite his sentence reduction, it appears that Apollo is still on the hook for the $1,948,214.85 he owes his victims in restitution for the fraud he committed. It is unknown how much of that amount has been paid, and how much is still owed.
So far, there has been no public response from Apollo's prison fiancée Sherien Almufti. We will keep an eye ou tand update if she posts something about the sentence reduction.
Asa Hawks is a writer and editor for Starcasm. You can contact Asa via Twitter, Facebook, or email at starcasmtips(at)yahoo.com