With a guest list that included Creedence Clearwater Revival front man John Fogerty, Neil Diamond, and AI judge Steven Tyler the biggest rock star at the American Idol Season 11 finale event in Los Angeles last night was none other than beat-of-his-own drummer Barry Weiss from the garage sale band of bidders on A&E's Storage Wars!
Barry was his usual eccentrically charming self, hamming it up for the cameras in black pants and a black shirt with a gray tie and matching gray jacket. And no formal Barry outfit is complete without an Untouchables scarf and his trademark West Coast Choppers glasses!
One word comes to mind here… Dapper.
UPDATE – Speaking of Barry Weiss stealing the show, here's a video clip from the red carpet in which he does exactly that – from Storage Wars creator Thom Beers!
Barry Weiss seems to be growing quite fond of the red carpet, having flown to New York City just a couple weeks ago to bless the A&E Upfront Presentation with his aura! We shall have to all just wait and see if Barry shows up to the hippest of formal hip events: The 2012 MTV Video Music Awards, which are being held in Barry's backyard at the Staples Center on September 6.
I will wrap up this post with a parting shot from Barry and his "lil fren" from the amazing Storage Wars Season 3 "Summer Lockbuster" trailer video: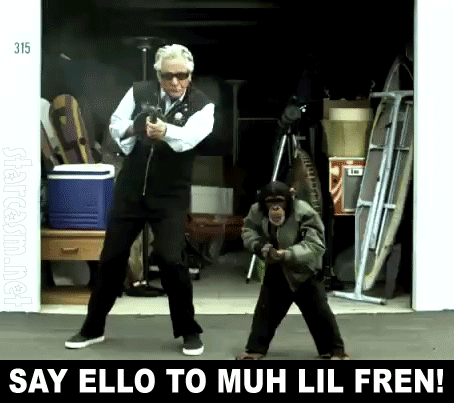 AI finale photos: Jen Lowery / Splash News