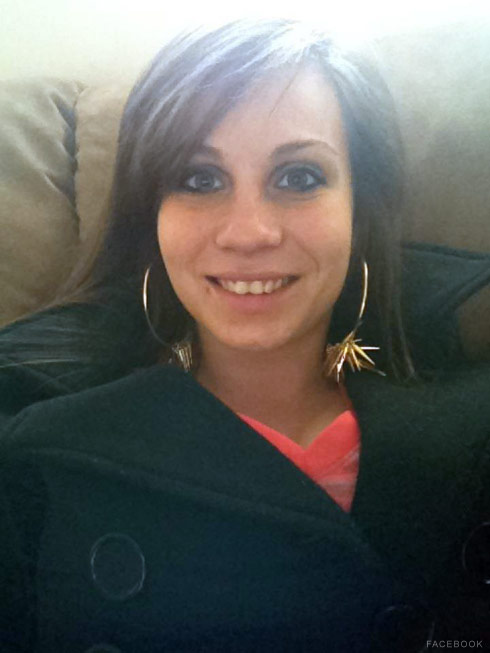 Thursday night's episode of Birth Moms on TLC featured three young pregnant girls living in an adoption facility together during the last month of their pregnancies. In addition to the scene-stealing antics of the shoplifting, tequila drinking former prostitute Kandice Machado and the heart-wrenching story of Lindsay Batts, who got pregnant after being raped while blacked out on pills, we also got to meet Taylor Walters.
Taylor was already the mother of a young daughter named Nevaeh and was pregnant with the same man's child again. She revealed on the show that he was currently in prison – which is something Taylor is apparently no stranger to either!
The above mug shot photo was taken in Volusia County Florida on March 10, 2012 after Taylor Walters was arrested for failure to appear for a court date stemming from a previous arrest for grand theft. If you are like me the booking photo is greatly disappointing, because Taylor really did come across as the most mature and caring of the three birth moms featured on the show. (Her obsession over which family her child was placed with was a sign of that!)
But before you overreact, I think there's a good explanation here. Judging from Taylor's Facebook page, she is currently out of jail and TLC informs us she is enrolled in cosmetology school. Also, the arrest was right about the time that she returned to Florida from Utah after giving birth, so I'm guessing that was the reason she missed her court date. Of course, if that is the case, Taylor should have made arrangements. But my guess is that if she went before a judge and explained that she missed her court date because she was living in an adoption facility in Utah during the last month of her pregnancy that the judge would be willing to cut her a break.
This is all just hopeful optimism on my part – but I don't think it's too far fetched.
And speaking of hopeful optimism, here's a photo of Taylor Walters and daughter Nevaeh from not long after she was born:
It will be curious to see if TLC orders additional episodes of Birth Moms. The network has a history of running one-time "specials" and then turning them into a series (Toddlers and Tiaras for example) so I suppose it depends on viewership and reactions. I for one would be curious to see more!