A much thinner John Goodman stole the show at the 38th Annual Lifetime Achievement Award Honoring director Mark Nichols Thursday night, showing off his almost svelte new look on the red carpet in a black tuxedo.
The notoriously portly actor is a little sensitive about his weight and has struggled over the years trying to keep it off. He talked about his fluctuating poundage with Entertainment Weekly all the way back in 1992:
Goodman is sensitive about his weight, which now hovers around 300 pounds … "I lose it, I gain it back," he says. "No big deal." But if it's no big deal, why does he keep trying to take it off? He smiles. "I dance better when I'm thin."
Not only was the difference noticeable through John's midsection, but his infamous double chin seems to have all but vanished as well!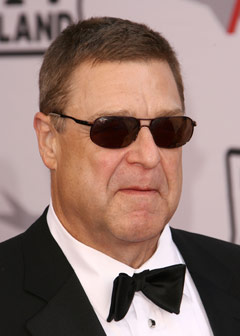 Above: John Goodman's face before in April, 2008 (left) and after in June, 2010
It hasn't been revealed just how much weight Goodman has lost, but most are speculating it is upwards of 100 pounds. What's his secret? All his publicist would say is that he did it through "diet and exercise."
Does this mean that when the inevitable Oh Brother, Where Art Thou 2 rolls around we may be seeing Goodman playing Lil Dan?
UPDATE: John Goodman addressed his fluctuating weight on the June 16, 2010 episode of Late Night With David Letterman. Here's a video report from E!, including clips from the show:
Top Photo: Alberto E. Rodriguez/Getty Images
Face Photos: BARM/Fame Pictures and Juan Rico/Fame Pictures