Last week the feud between Teen Mom OG stars Farrah Abraham and Amber Portwood was reignited after Farrah clarified that she and Simon were flipping houses long before Amber and Matt, to which Amber responded by accusing Farrah of cocaine use as well as threatening to reveal the 411 on some online mystery man from New York?
Here is Amber's full retaliatory statement:
Don't comment on a real woman sweetheart! I gave you family bootcamp lol and I make money on my houses…I don't lose money like your other house. This is why you shouldn't do Cocaine and drink all the time okay honey. Your forgetting things like you know That guy you met online in NY?? Keep it up and I will literally stop all this with one interview and text messages. Don't play with a true Queen sweetheart ? try me!!
We reached out to Farrah's dad, Michael Abraham, for his take on Amber's comments, and he had A LOT to say about it!
So what is your reaction to Amber's response?
Who cares about something that might have happened or not … years ago and of texts involving other parties. It's also funny that Amber is threatening someone about behaviors that her fiancé and her beg people to forget about in one statement, and in another statement use as an excuse for their behaviors.
What's really wrong with her statement is she is threatening extortion or threatening to blackmail someone when both her and her fiancé have shown they think they are above the law instead of taking care of their responsibilities.
If she had any sense she would be concerned and would be managing their responsibilities for their actions last fall – attempted assault, assault, damaging government property, and destroying government property.
By "actions last fall" are you referring to the now-infamous Teen Mom OG Reunion?
Yes – and it was seen all over the world. Attempted assault and assault. Both the edited and then released un-edited version showed it. They had no business being on that stage. Period.
The "attempted assault" part seems clear, but what do you mean when you say she damaged and/or destroyed government property? Is that in reference to your Veterans Administration issued hearing aids?
Yes – stay tuned.
So why do you think Amber continues to engage Farrah with statements like this?
Bottom line there is two reasons – one they can dish out comments and name-calling but can't take it when it's thrown back at them. In the Reality TV business lots of public relation companies and talent do this. …And a lot of opinions are said…. So if you can dish it out and cant take it… get out of TV land!
Second, Amber and her fiancé have one of the biggest cases of "Abraham Envy" I have ever witnessed! Heck, Amber's fiancé's book chapters that were leaked a few weeks back pretty much had a whole chapter about "The Abrahams" in it. An example of this is last fall – in Amber's interview with Dr. Drew on the Reunion Show, she spent over five minutes ranting about Farrah and our family – you would have thought she would have taken that opportunity to talk about her daughter, what she is doing to have a better life for her daughter, what she is doing to better herself and talk about her family story.
However, she showed her true colors – that she can't control herself and she is full of rage/violence and it was shown to the world – and her fiancé exhibits the same behavior and it's a shame.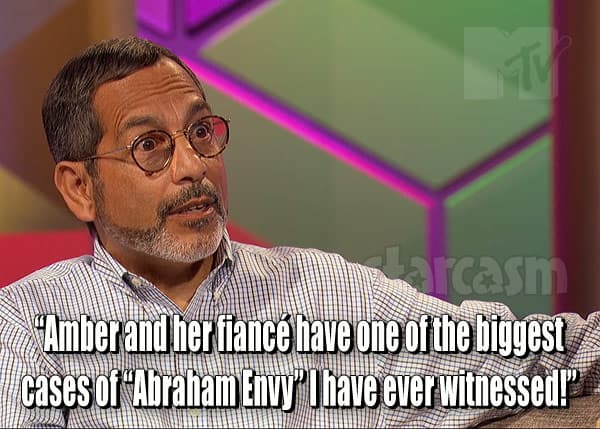 What do you think about Amber calling herself a "real woman?"
Like Farrah is not! I guess that depends on your definition of a real woman. Amber, your definition of a woman is not what every women wants to be. Just like there are women who don't want to be like Farrah. Farrah is who Farrah wants to be and is real about it – she never tries to be like someone else – such as a Ms. Marilyn Monroe want-a-be.
What about Amber's claim that "I make money on my houses? I don't lose money like your other house."
This is not a fact – the fact is the house Farrah WAS selling is being leased – she never lost money on it – another lie. Amber, let's see if your business can maintain some longevity let alone profitability – none of your businesses have been in existence for even a few years… which is a real test of a business. Do I know what I'm talking about? YES – I've been a business consultant for 17 years and been in business for over 30 years. Amber's lack of experience shows when she makes statements like this. She has no idea.
What about those claims that Farrah and Simon are copycats of Amber and Matt by flipping houses?
Our family, collectively, "flipped houses" and made money with other real-estate investments since the '80s. Through the '90s Farrah learned real estate investing from her parents, and she started investing in real-estate — including "flipping" homes and land development — when Amber was in prison. The copycat is Amber.
Speaking of copycat…. fact … Amber and Matt have Gina Rodriguez of GR Media as their agent and manager, which was Farrah's manager years ago for a few months before Farrah fired her. Gina still has a picture of Farrah on her website. Amber, how do you explain your attempts to bad mouth Farrah as you did on last season's Teen Mom OG Reunion Show when you were talking to Dr. Drew? She said, "She sold her vagina" when the person you trust your TV career with is a person that did the same thing like 50 times?? Amber isn't that being a bit two faced?
[Michael is referencing the fact that Gina Rodriguez is a former adult film star who went by the name Demi Delia.]
Amber, the world sees that you're Gina's puppet. Statements you said on the after show like "no one wants to work with Farrah", "Farrah is third pick" etc. are recognizable. Your playing with the devil and you are too foolish to even know it.
Back to Farrah being a copycat, I would have to agree that it seems like a ridiculous word to use for her in relation to the other cast members.
She was the first Teen Mom to have a book published and the first with a NY Times best selling book. Farrah was the first to have her own book tour, and she coordinated it herself. She has built out many successes that opened doors for many of the MTV Teen Moms in the franchise, which they should be thanking Farrah instead of bashing her.
She was the first to have a business and the first to have a real brick-and-mortar store – three of them all being different store concepts – Yes that's a fact! She has been on more TV shows and on more Networks than any of the Teen Moms to date – Yes, it's a fact!
She has be invited many times and spoke recently at the world famous Austin SXSW Tech Festival's hottest marketing event with the likes of senior executives from Apple, Google, Amazon, and IBM…. because of her proven online marketing expertise and successful disruptive business mindset – Yes ,it's a fact!
Farah's accomplishments are too many to share here! Want to know what's next? Stay tuned, Amber, when you see Farrah have her own show(s) this year and more in the future! Yes, there will be so much more for you to have "Abraham Envy" over!
* * * * * * * * * * *
Thanks Michael for taking A LOT of your time to talk with us. Of course, we certainly look forward to all of Farrah's future endeavors — on screen and off. 🙂 Meanwhile, we can all see what Farrah (and Amber) were up to a few months ago with new episodes of Teen Mom OG airing Monday nights at 9/8c on MTV! (This week you can catch a brand new episode at a special time — Sunday at 6:30/5:30c, just before the MTV Movie and TV Awards.
And be sure to watch Farrah, Michael, and Debra work through their issues on new episodes of Marriage Boot Camp: Reality Stars Family Edition airing on WEtv Friday nights at 9/8c.