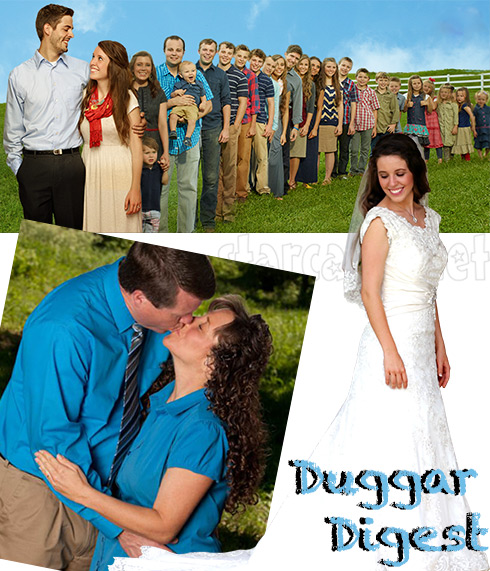 Tonight's 19 Kids and Counting is a big one as it finally features Jessa Duggar's wedding to Ben Seewald. The episode will include a glimpse behind the scenes as the couple deals with a large wedding party, "a list of nontraditional requests" and predictions for bad weather.
Were Jessa Seewald's younger siblings scared of her?

Jessa with Ben Seewald's younger sister, Faith, and Jessa's younger sister, Jordyn.
During last week's 19 Kids and Counting, the Duggar family reflected on their memories of Jessa — and some of the compliments seemed to be a bit backhanded.
"It's all or nothing with Jessa," Michelle Duggar said. "She puts her whole heart into it. If she knows this is the path, this is the way, the best thing to do, the right thing to do, she will just jump."
Michelle continued to explain that she knew she could rely on Jessa to keep the younger kids in line. As Fashion & Style reports, "Jessa's name struck fear in the hearts of the younger kids. Hearing their older sister's name became a way to instill fear in the children to do what was expected of them, for they knew Jessa would make them toe the line when necessary."
Despite her reputation as a disciplinarian, the family agreed Jessa was a wonderful sister.
Has Jill Dillard had her baby yet?!
Jill marked 41 weeks of pregnancy earlier today with a (final?) bump picture on her family's Facebook page. Mom Michelle added, "Our sweet Jill is on the home stretch now. Any day her precious little one will make an appearance!"
In a new video posted yesterday in honor of her and Derick Dillard's engagement anniversary, Jill said "Baby Dilly" is "still cooking" — but, despite the inevitable discomfort of the third trimester, she's "feeling great." She explained she's trying to eat healthy and is keeping up with walking.
One year ago yesterday Derick asked Jill to marry him. Now they have been married a little over 9 months and Jill is 9 months, 6 days pregnant. Little baby Dilly should be born any day. Please pray for a healthy delivery and enjoy the little video of the happy couple we made yesterday!

Posted by Duggar Family Official on Monday, March 30, 2015
Even though Baby Dilly hasn't yet arrived, TLC announced this week that his 2.5-hour birth special will air on Mother's Day — at the end of the network's "Mother of All Weeks."
Jessa's wedding episode of 19 Kids and Counting airs tonight at the special time of 8/7c.