Since the advent of take-home pregnancy tests it has become more and more difficult to fake being pregnant (for whatever reason it may be that you would want to do that). But, convincing your boyfriend, spouse, family, or employer that you are expecting has gotten a little easier thanks to the magic of the internet and the proliferation of Craigslist ads for positive pregnancy tests.
After initially reading about the phenomenon on The Daily Dot I decided to check for myself, and it was remarkably easy to track down positive pregnancy tests in pretty much every area of the country.
A lot of the ads imply that the test can be used as part of a gag or practical joke on family members or a spouse, but pretty much all of them say "no questions asked." The prices usually range from $20 – $30 with some variable options (you can get the actual urine itself in Washington, DC. Watch out Senators and Congressmen!)
Here are some of the listings I found (in no particular order).
Wichita/Derby, Kansas:
Positive Pregnancy Test! – $25 (Wichita or Derby)
That's right ladies, I'm selling positive pregnancy tests! I don't care what you want it for, that's your business. I will take the test prior to meeting with you. I can meet anytime in Wichita or Derby. Reply to this ad, I will respond promptly.
* * * * * * * * * * *
Dallas, Texas
FS: positive pregnancy test – $20 (Dallas, garland, terrell, Forney )
Do you Need a Positive pregnancy test? I'm pregnant and selling positive pregnancy tests
get your boyfriend to pop the question, pranks, revenge! 😉 It doesn't matter what you want it for… I don't ask questions! 🙂
Asking $20 for a regular test – Digital Screen Pregnancy Tests for $25. Test will be taken the same day you want to pick it up! Will meet up in public place.
** will also ship if desired at no extra cost. Priority mail – safe, secure, well packaged. **
* * * * * * * * * * *
Boise, Idaho
Positive Pregnancy test – $25
Saw this posting and thought I'd try it myself. I am 30 wks pregnant and selling positive pregnancy test for anyone wanting one. Do what you want with it, I'm just trying to make a living somehow. If interested reply to this email and I will send further instructions on purchase and process.
* * * * * * * * * * *
Washington, DC/Maryland
Trick someone with a positive pregnancy test! – $20 (silver spring, md)
Want to play a joke on a spouse, ex or family member? This is the perfect way to do it! I am 7 months pregnant and am willing to give you a positive pregnancy test for a low fee of $30 or the urine itself for $20. (You never know if he will go as far as to providing a test himself!)
* * * * * * * * * * *
Orlando, Florida
Positive Pregnancy Test – $25 (Florida Mall Area)
You read that right! I'm pregnant and why not let others in on the fun!
Want to play a prank on a friend? Baby shower gag gift?
I will provide you with 1(one) positive pregnancy test with NO QUESTIONS ASKED. Taken same day.
It isn't my business what you choose to use it for!
This will NOT be a dollar store test. Will be either Clearblue First Response or EPT.
* * * * * * * * * * *
Chicago, Illinois
Positive pregnancy test – $25
Selling positive pregnancy tests for $25. Wanna play a trick on your girlfriends? Scare your boyfriend? I don't care how you use it! Send me an email. Let me help you get a laugh!
* * * * * * * * * * *
Buffalo (North Tonawanda), New York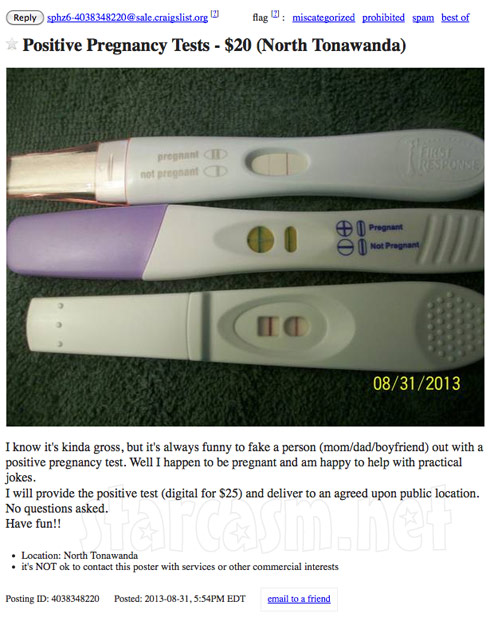 * * * * * * * * * * *
Dallas, Texas
Positive Pregnancy Test – $20 (Mesquite area)
Pregnant woman willing to sell positive pregnancy tests to anyone who wants them. Test will be taken right before arranged meeting time, Whatever you do with it is your choice, want that guy to marry you quicker, revenge whatever.
Note
Pregnant woman will not be the one meeting you so, it will be a male so don't think there is an easy target, move on. Serious inquires only, delivery will happen in a busy location for safety of both parties.
Email contact only
* * * * * * * * * * *
* It should be noted that I sampled quite a few areas in Canada with no results. Surprisingly there were also no results for Las Vegas either. So who knows, maybe there is some thing to that slogan What happens in Vegas stays in Vegas after all!
And just to show an example of a situation in which someone might want to buy a positive pregnancy test for what many might consider a forgivable reason, check out this Dallas area Craigslist ad from a potential buyer:
Dallas, Texas
I need positive pregnancy test or urine
I was with my ex for 5 years and 2 children. We had been trying for another and he came home last night and said out of all things his receptionist he got pregnant. He had been cheating for the last 6 mths. He isn't sure which one he wants to be with. He text this morning and said just wanted to make sure you start your period this week let me know. I was so shocked I have kicked him and I think handled it well for what a cheating lying dog he is.. I am so done with him an angry and don't want him back but would like the last laugh out of this. I will give some girl $40.
Call me won't even ask for your name. I live in Dallas area.
I will come to you wherever you want to meet.
Txt or call
972 *** ****