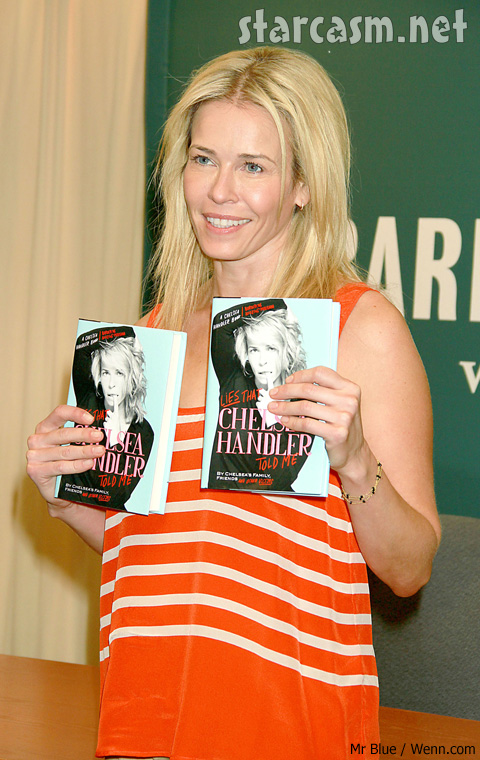 Chelsea Handler is an executive produer for some of the most mind-numbing reality tv on the planet: Pretty Wild. It featured two teenage girls who badly wanted to break into Hollywood. One of them, Alexis Niers, had to serve time in jail for being involved in the Bling Ring of kids who robbed stars' homes, and later was back in jail for possessing black tar heroin. It was a fun show to watch, but full of fluff, and glossed over some pretty serious situations like stealing and drug use. It's a beautiful guilty pleasure.
However, that doesn't stop the late night talk show host, who has a new book out, from bashing other, more interesting, reality shows. In an interview with The New York Times, Handler claims that The Real Housewives of Atlanta is "racist," and comments on MTV's popular 16 & Pregnant series: "Getting rewarded for being pregnant when you're a teenager? Are you serious? I mean, that makes me want to kill somebody."
This setup leads her to spill a detail from her own past, Handler herself was once 16 and pregnant, but she had an abortion. If she hadn't, the 36-year-old would now have an adult child.
"I had an abortion when I was 16. Because that's what I should have done. Otherwise I would now have a 20-year-old kid. Anyway, those are things that people shouldn't be dishonest about it."

It's cool that Chelsea's being honest about this very delicate subject, but it does seem a bit hypocritical to bash a show that is far more educational and "real" than the Pretty Wild mess.
Although dealing with fame and money has been a strange thing for the girls who make it on the to spin-off Teen Mom, 16 & Pregnant still doesn't pay very well, or offer up a huge amount of fame. It does, however, often serve as an educational tool for young girls to see the financial, family, social, and relationship with the baby's father issues that accompany the responsibility of being a parent at a young age. One of the girls from 16 & Pregnant, Markai Durham, even allowed MTV to film her difficult decision to have an abortion with her second pregnancy.
Retraction: This article originally said that Chelsea produced Keeping Up With the Kardashians on E!, which is wrong. She actually produced E!'s Pretty Wild, which was as advertised: pretty wild. We should also note that we really do enjoy Chelsea's comedy. She pulls no punches. Hilarious.