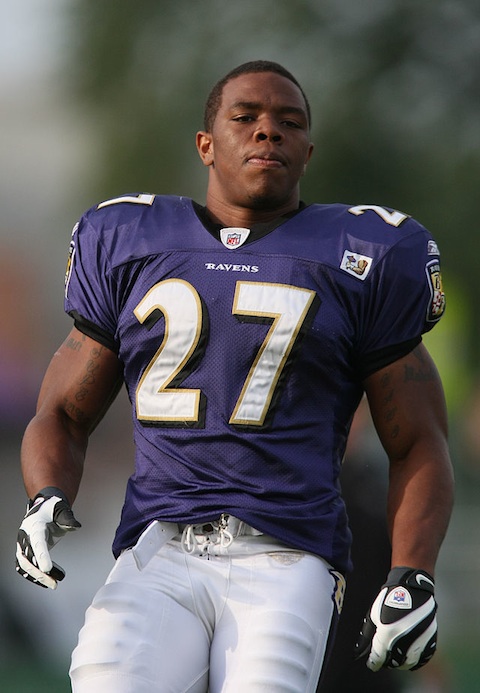 Rice is one of the most prolific running backs in Baltimore Ravens history.
Ray Rice, star running back for the Baltimore Ravens of the NFL, has received a two-game suspension from the league for knocking his wife unconscious in an elevator and dragging her body away.
Rice, 27, will miss the first two games of the season. He was also fined $58,000. It wasn't immediately clear whether his suspension came without pay; Rice is set to make $7 million this season.
The league's response to the incident of domestic violence came under swift and severe attack on social media. Here's a sampling of sportswriters' and players' reactions:
Every time I hear how women absolutely love the NFL, I always wondered if it really loved them back. Today there is proof: No, it doesn't.

— Mike Wise (@MikeWiseguy) July 24, 2014
I mean seriously, Roger. This video is so disturbing and disgusting. #speechless @nflcommish http://t.co/4oCk6D3uRH — Jim Trotter (@JimTrotter_NFL) July 24, 2014
The message to my wife & 3 daughters today? The business that's been such a big part of our life, really doesn't give a f**k about you.

— Scott Fujita (@sfujita55) July 24, 2014
Ray Rice: Beat a woman unconscious, suspended 2 games. I guess permanent brain or organ damage is mandate for 4 games, right @nflcommish?

— Jeff Schultz (@JeffSchultzAJC) July 24, 2014
Rice was convicted of third-degree aggravated assault this past March 27th. The next day, he married his girlfriend.
In related news, Cleveland Browns wide receiver Josh Gordon is soon to appeal the one-year suspension he received for several marijuana-related violations of the league's drug policy.
And Jacksonville Jaguars wide receiver Justin Blackmon, already serving an open-ended drug-related suspension, was arrested yesterday for marijuana possession.
Additionally, Indianapolis Colts linebacker Robert Mathis will miss the first four games of the upcoming season for taking fertility drugs that contained an unapproved steroid.
Is Rice's suspension appropriate? Too short? Should he be suspended at all?