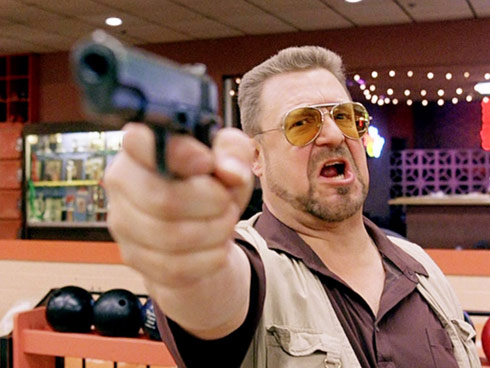 Unless you're Walter Sobchak from The Big Lebowski, guns and bowling don't mix, man!
Last night at around 7:30 PM, the patrons of Jupiter Lanes bowling alley in Jupiter, Florida got a surprise when they heard what they believed to be a firecracker. It turned out that the sound was actually a gun going off, this according to area police.
An unidentified man who was carrying around a pistol in his shorts pocket accidentally shot himself in the leg while stepping through a roll.
Eye witness bowler Jim Miller told WPBF, "The guy just stepped up to bowl. I think he hit his leg on his back swing."
Another roller on the scene, Mike Martin, added: "The ball hit him in the leg, which triggered the revolver."
The man's injuries were not believed to be life threatening and he was taken to an area hospital, because the dude abides, as a precaution.